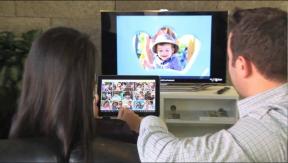 Mahwah, N.J. — Denon has begun shipping an entry-level series of A/V receivers (AVRs) targeted to entry-level purchasers said to be turned off by complicated setup procedures and controls.
"Denon brought user-friendly elements such as horizontal color-coded speaker terminals and a richer graphic setup assistant to provide consumers with new levels of user friendliness," a spokesperson said.
The E series of AVRs consists of three models retailing for a suggested $249, $399 and $599. They will be promoted in POP material and advertising under the theme of "four E's," which stand for an Easy, Exciting Entertainment Experience, the company said.
All models get color-coded speaker terminals and matching-color cable tags to ensure the correct speaker-cable hookup out of the box. The two step-up models add "push-in" type speaker wire connections to further simplify speaker connections.
The top two models add what Denon called a more intuitive, easier to use setup assistant. The assistant uses an onscreen graphical display that combines large text and icons so users can easily make all necessary adjustments.
All three AVRs also come with four Quick Select buttons on the front panel and on the remote. The feature lets users press one button once to select the cable/satellite, Blu-ray, Game or aux inputs. That makes it unnecessary to toggle through all inputs to get to the preferred audio source.
Said Paul Belanger, technical product manager for Denon parent D+M, "Our designers and engineers were instructed to make whatever changes they deemed necessary to build a new type of receiver that would offer total ease of use, total ease of setup and the very best possible user experience.
With the launches, Denon is also bringing 4K by 2K passthrough and up-scaling down to a suggested $599 and maintaining the opening price for DLNA 1.5 networking, Internet music streaming, AirPlay and Made for iPod/iPhone front-panel USB port at $399. The $399 price point, however, gets Spotify for the first time, having previously started at $579.
Both networked AVRs stream vTuner Internet radio stations and the SiriusXM, Pandora and Spotify music services. They also stream music and photos from a networked PC and photos from the Flickr website.
The $399 price point remains the opening price for Audyssey MultEQ, Audyssey Dynamic EQ and Audyssey Dynamic Volume. MultEQ is an automatic room-acoustics measurement and correction technology. Audyssey Dynamic EQ maintains flat frequency response and maintains surround-channel perception when users turn down the volume. Audyssey Dynamic Volume, which includes Dynamic EQ, maintains a consistent volume level and flat frequency response when a TV program cuts to a commercial, when a TV channel changes, when video sources are switched, and when a movie or TV soundtrack transitions to louder or softer passages.
All models feature HDMI standby passthrough, enabling audio from a cable or satellite set-top box to passthrough its audio to a TV without having to turn the AVR on. The feature is designed for casual viewing of newscasts and other programming.
The opening-price $249 AVR-E200 is rated at 5×165 watts maximum, Dolby and DTS HD Audio decoding, and ability to customize preferred sound settings for each audio-source input. The AVR-E200 features four HDMI 1.4a inputs with 3D passthrough, including one on the front panel.
The $399 AVR-E300 features five HDMI 1.4a video inputs (one in front) and 5×175-watt maximum amplification.
The $599 AVR-E400 steps up to 7.1-channel capability with amplification rated at a maximum of 185 watts for each channel. The amp can be set to power a 5.1 surround system and drive second-zone stereo speakers. The AVR features six HDMI inputs, including one in front.
Latest posts by Joseph Palenchar
(see all)