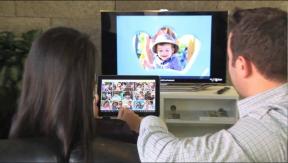 Los Angeles – The entertainment industry promotional body the Digital Entertainment Group (DEG) said Monday it added four new members: Allied Vaughn, Entertainment One, Intel and M-Go.
The companies represent a range of cross-sectors serving the home entertainment industry — from on-demand manufacturing, film and television content distribution, mobile and communications products and technologies to digital entertainment delivery services.
Allied Vaughn specializes in on-demand manufacturing, sales and distribution of film, music and games on DVD/CD. Its services connect content owners with a global network of consumers, retailers and emerging distribution channels. The company helped pioneer the manufacturing-on-demand business by working closely with the motion picture and television industries and the music industry.
Entertainment One is an international entertainment company specializing in the acquisition, production and distribution of film and television content. Its current rights library crosses all media formats and includes more than 35,000 film and television titles, 2,700 hours of television programming and 45,000 music tracks. Inside the U.S., eOne is positioned to theatrically release 12 to 15 films annually and is one of the leading independent distributors to the home entertainment and digital markets.
Intel is one of the world's largest semiconductor manufacturers. The company also makes motherboard chipsets, network interface controllers and integrated circuits, flash memory, graphic chips, embedded processors and other devices related to communications and computing.
M-Go is a new pay-as-you-go digital entertainment service that makes it easier for consumers to browse, rent, buy and enjoy the broadest, newest and best selection of movies and TV shows.
The joint venture between DreamWorks Animation and Technicolor's mission is to transform the world of digital entertainment on the viewer's terms. M-Go has secured content deals with Hollywood's major studios to drive its growing library of the newest releases — the earliest it is available at retail — as well as a deep catalogue of hidden gems and classic favorites.
M-Go is available on all major platforms and functions on a full spectrum of operating systems ranging from Android to iOS to Windows. M-Go is preloaded on Samsung's smart TVs, Blu-ray Disc players and Wi-Fi tablets; Vizio's smart TVs, Blu-ray players, Wi-Fi tablets and digital media players; and Intel Ultrabook devices.
Latest posts by Greg Tarr
(see all)