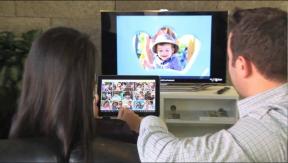 Baltimore – Definitive Technology has signed signer John Legend as its first brand ambassador.
Legend, who is releasing his fourth solo studio album, Love In The Future on September 3 and recently announced a North American tour this fall in support of the album, "has long used Definitive Technology's products in his own home and will serve as a spokesperson and creative inspiration for the brand's current and future audio products line-up, including home loudspeakers and the brand's Sound Cylinder Bluetooth speaker," according to a statement from Definitive.
"As an artist, I strive to evolve my sound beyond what's come before or what's expected, while remaining true to a timeless style," Legend said. "That's what appeals to me about this collaboration — Definitive Technology is constantly raising the bar for innovation in audio products without ever losing sight of its commitment to putting sound first."
In support of the multi-year partnership, Definitive Technology is planning a series of media, partner and consumer events including a Google+ Hangout and concert in Las Vegas. Additionally, the brand will promote the collaboration with a national ad and retail campaign that will launch in the fall.
"John Legend embodies so many defining attributes of the Definitive Technology brand," said Dave Peet, executive VP of Definitive Technology. "He is an extremely gifted artist and stage performer. We are honored to write a new chapter of our legacy in collaboration with John, and believe this partnership will help inspire our team and our customers to fall even more in love with the Definitive brand and product story."