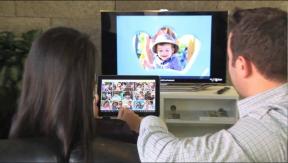 New York – DataVision, the New York A/V and IT specialty dealer, will leave its Fifth Avenue home of 21 years this June for a smaller, "connected" showroom downtown.
The independent retailer, led by CEO Jimmy Garson and president Albert Liniado, said the move was prompted by rising rents, smaller vendor lines, the demise of packaged software and the popularity of mobile shopping.
At 3,500 square feet, the new digital showroom will be about one-tenth the size of the current three-story Midtown location. But it will compensate for fewer floor displays by offering 150,000 items for sale through a collection of touchscreen panels, and by providing same-day delivery for 40,000 of the SKUs.
The touchscreens will vary from 27 inches for digital cameras to 90 inches for TVs, so that customers can experience the products in their actual sizes, Garson told TWICE.
DataVision will use a courier service and its own truck fleet to deliver the orders, pulling inventory from a new 5,000-square-foot distribution center on the West Side and a main warehouse in Long Island City. Orders of $100 or more placed before 2 p.m. are guaranteed to be delivered the same day throughout Manhattan at no charge. A fee is incurred for same-day delivery within a 51-mile radius outside the borough, although next-day delivery is free.
The store itself will be located on West 23rd Street between Fifth and Sixth Avenues, a heavily trafficked retail corridor anchored by The Home Depot and populated by CE traffic magnets Best Buy and P.C. Richard. A Lego store is also under construction on the corner.
A second digital showroom is expected to follow in 2015, to be located in the vicinity of Columbus Circle, and a revamped website featuring an upgraded platform and more dynamic front end will go live this spring. Further down the road, a third showroom, in Lower Manhattan, is envisioned in the next two or three years.
Garson said the move is bittersweet, but positions DataVision for a digital future as CE manufacturers continue to squeeze margins, redundant assortments proliferate, commerce increasingly shifts online, and excess real estate becomes a liability.
"We've always been ahead of the curve with display and this is the right direction now, given how the industry has changed," he said.
The company will leave behind a storied showroom on Fifth Avenue at 39th Street. There, the weekday crowds and close proximity to the New York Public Library made it a CE destination for shoppers and a launch pad for vendors like Intel, Samsung, Toshiba and others, some of whom staged performance art and other attractions within its large display windows.
Garson plans to bring the same excitement to West 23rd Street, beginning in June with a series of grand-opening events featuring sports and music luminaries, and a mid-six-figure advertising blitz to tout them.
More immediately, DataVision will hold a relocation sale over the next two weeks before it begins packing its bags for the move downtown.
Latest posts by Alan Wolf
(see all)