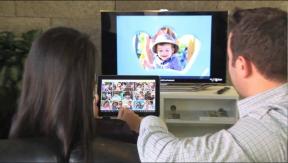 San Mateo, Calif. – Dads would rather receive a new top-of-the-line flat-screen TV for Father's Day than tickets to a championship sporting event, a new survey shows.
According to shopping app and website BuyVia, 80 percent of fathers would choose a TV over tickets, and 63 percent would rather receive Google Glass eyewear than a new set of golf clubs.
The split was narrower in gaming, where Sony's forthcoming PS4 edged out Microsoft's upcoming Xbox One 52 percent to 48 percent.
"This year's survey shows that enriching the family experience is important to today's Dad," said Norman Fong, CEO and co-founder of BuyVia.
"Yes, he's interested in receiving the hottest tech products like a new state-of-the-art flat screen TV, Google Glass, or the Sony PS4, but the survey also showed that most of the technology he covets can be used at home with his family. So gift givers should think twice about more traditional gifts such as ties, golf clubs or tickets to a game."
The survey also revealed that 35 percent of respondents are planning to spend up to $50 on dad this year, 48 percent will spend the same as they did on Mother's Day gifts this year, and 20 percent of consumers don't give Father's Day gifts at all.
Based here, BuyVia is a mobile and online shopping service that stores product searches and preferences and locates local and online deals. Charter partners include Amazon.com, Dell, Hewlett-Packard, NewEgg.com, PriceGrabber, Sony and TigerDirect.
Latest posts by Alan Wolf
(see all)