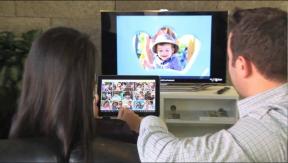 Denver – Crestron is coming to the CEDIA Expo with a variety of home-automation and multiroom-A/V products, including its first 4K-capable HDBaseT extenders and first H.264 video-streaming cards for its DigitalMedia card-based matrix switchers.
The company is also announcing that Yale wirelessly controlled door locks now integrate with Crestron home-control systems.
Separately, Baldwin announced that it will add wireless control from Crestron's systems to keyless-entry deadbolt locks that already incorporate wireless ZigBee. A ship date hasn't been announced.
For the multiroom-A/V market, Crestron is adding the HD-EXT3-C and HD-EXT4-C 4K-capable HDBaseT extenders, both of which consist of an extender and a receiver. The extenders transmit HDMI audio and video, plus RS-232 and IR control signals, up to 330 feet (100 meters) using a single, low-cost CAT5e cable. Extenders can be mounted in a single-gang wall box with black or white faceplates, though the transmitters can also be rack-mounted. An HDMI input and control-signal inputs appear on the front of the faceplate, and an HDBaseT output appears on the back. The receivers are small black boxes that can be mounted behind a display device.
Both extender pairs handle Full HD 1080p60 and 4K Ultra HD with support for HDCP, 3D, and Deep Color. Full HD 1080p60 is supported up to 330 feet, but 4K Ultra HD is limited to 230 feet (70 meters) or less. For audio, the extenders support 7.1 Dolby TrueHD and DTS-HD Master Audio and uncompressed linear PCM.
In addition to HDMI, the extender pairs are also compatible with DVI and DisplayPort Multimode sources and DVI display devices using adapters or interface cables.
The HD-EXT4-C adds the ability to transmit an analog-audio signal to support DVI devices and select HDMI devices that might not support digital audio. In that case, an additional twisted-pair cable has to be installed between the sender and receiver.
The company's card- and blade-based DigitalMedia matrix switchers, ranging from the 8×8 model to a 128×128 model, currently don't support 4K but will be enabled with 4K with the introduction of future I/O blades, cards, transmitters, and receivers, the company noted without specifying a launch date.
In H.234 output cards for Crestron's DigitalMedia card-based matrix switchers, the company is showing the DMCO 7-Series cards, which encode and transmit H.264 over a home network from digital or analog sources. Common residential applications include using the matrix switchers to switch security-camera video to displays, Crestron touchscreens, and mobile devices and laptops at home or on the road, said Tom Barnett, director of residential marketing. The cards can stream video up to 1080p, and they can combine two signals over the same stream to enable picture-in-picture and picture-by-picture display..
The DM switchers also transmit analog and digital video inputs over HDMI, HDBaseT, multimode fiber, and single-mode fiber in any combination to A/V networks, with the new cards adding simultaneous H.264 streams over IP networks.
The H.264 streams eliminate distance limitations for transmission around a building, campus, or around the world, the company said, with both unicast (one-to-one) and multicast (one-to-many) protocols.
In announcing compatibility of Yale wireless door locks with Crestron control systems, Crestron said it is expanding its list of compatible third-party devices under its Crestron Connected initiative. Under the initiative, Crestron's control protocol is embedded into third- projectors, displays, and audio/video receivers, and other devices. With the addition of Yale Real Living door locks, homeowners can use a Crestron touch screen or mobile device to control, manage and monitor door locks, including setting schedules, the company said.
The door locks add the Crestron infiNET EX wireless protocol to receive commands and communicate with the other devices through a Crestron control system. As a result, when a door is locked or unlocked, the Crestron system can simultaneously turn lights on oroff, adjust shades and temperature, and set the alarm, the company said.
A Crestron Connected device is recognized natively by a Crestron system to enable full control capabilities out-of-the-box without special drivers or modules, the compay said.
In other launches, the company plans to show new automated shade products and new wireless lighting controls. Crestron, for example, is expanding its selection of designer-inspired fabrics, hardware and accessories for its Crestron Shading Solutions line, which consists of drapery track systems and roller, Roman and skylight shades. The products use low-voltage QMT 50 (Quiet Motor Technology) with wireless infiNET EX technology to control drapes and shades from touch screens, keypads, remotes and mobile devices. Crestron shades integrate with lighting, A/V, climate and security systems. Crestron infiNET EX uses 2.4GHz mesh-network technology.
The shading solution will ship soon after the show.
The company also said it is shipping its new CLW-DELV wireless dimmers, which are additions to the Cameo infiNET EX line of dimmers and switches. The dimmers deliver in-wall RF dimming of low-voltage fixtures, and they support flicker-free LED dimming. They're targeted to retrofit an new-construction installs.
Latest posts by Joseph Palenchar
(see all)