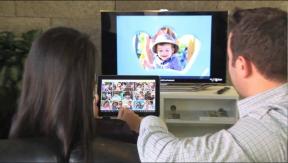 Rockleigh, N.J. – Crestron Electronics shipped what it called the industry's first end-to-end Ultra HD 4K distribution system and promised that the system will be upgradable to incorporate the HDCP 2.2 content-protection technology.
HDCP 2.2, ratified in the fall, is designed to protect the Ultra HD 4K content expected to be delivered via streaming services, future terrestrial and satellite broadcasts, and future physical media.
Creston declined to say when the HDCP 2.2 upgrade might be available.
The new Digital Media 4K distribution products consist of the DMC-4K-HD input card, DMC-4K-HD-DSP input card, Type 8 DMCO output cards, DM-RMC-4K-100-C DM receiver, DMB-4K-I-HD input blade, DMB-4K-O-C output blade, HD-EXT3-C extender, HD-XSPA AVR with integrated Digital Media Receiver, HD-RX3-C receiver, and HD-TX3-C transmitter.
For a limited time, Crestron is offering discounts to dealers that upgrade existing Crestron card-based DM systems by swapping out cards and receivers.
DigitalMedia systems are custom-configured, so prices vary based on specific system requirements.