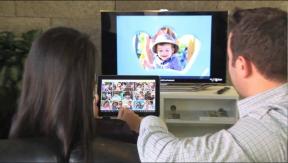 The Woodlands, Texas — Strong sales across all product categories sent profits and revenue soaring for the fourth quarter and full year at Conn's.
For the three months, ended Jan. 31, net earnings rose 57 percent to $27.7 million for the multiregional furniture, appliances and CE chain, while total revenue grew 44.3 percent to $361.1 million and comp-store sales increased 33.4 percent.
Net retail revenues rose 44.7 percent to $93.4 million and credit revenues climbed 41.9 percent to $59.1 million, although the company's provision for bad debts increased $25.4 million to $38.1 million as the delinquency rate hit 8.8 percent, compared with 7.1 percent in the year-ago quarter. Adjusted credit segment operating loss was $1.9 million, a decline of $15.5 million year over year.
In a statement, chairman/CEO Theo Wright said, "Our business model demonstrated its strength and resilience despite the challenges from portfolio growth and weather in our credit operation in the fourth quarter."
He added that higher underwriting standards and more effective collection efforts have helped improve credit portfolio performance during the current quarter.
On the retail side, furniture and mattress comps, increased nearly 60 percent, as furniture unit sales rose 70 percent and average selling prices (ASPs) for the category were up 12 percent.
Home-office comps increased 53 percent, as computer sales rocketed 77 percent and tablet sales rose 46 percent.
Majap comps increased 29.5 percent as unit volume rose 31 percent. Broken out by category, laundry sales increased 46 percent, refrigeration sales were up 34 percent, and cooking sales increased 35 percent.
CE comps increased 13.2 percent – including a 9 percent bump in TV comps — reflecting a 17 percent spike in TV sales, a 58 gain in home-theater sales and an 89 percent increase in portable audio sales.
Commissions from repair service agreements were up 45.8 percent, and service revenues rose 12.4 percent.
Broken out by mix, CE comprised 30 percent of sales, furniture and mattress 24 percent, majaps 23 percent, home office 12 percent, and services 9 percent.
Retail gross margin increased 370 basis points to 40.6 percent, and adjusted operating income rose 147.4 percent to $49.1 million.
During the quarter the company opened eight stores in four new markets and closed one, for a total of 75 big-box locations across Arizona, Louisiana, New Mexico, Oklahoma and Texas. Of those, about 50 employ the company's HomePlus store format, which dedicates increased sales-floor space to furniture and bedding.
For the full year, profits were up 77.6 percent to $93.5 million, total revenue rose 38 percent to nearly $1.2 billion, and comps increased 26.5 percent. Retail gross margin increased 470 basis points to 39.9 percent, and retail adjusted operating income increased 140.5 percent to $136.1 million.
Looking ahead, Wright said comp growth will likely slow to between 5 percent and 10 percent in the current fiscal year as comparisons grow more difficult, and that current-quarter comps are up about 15 percent. The chain also plans to open 15 to 20 new stores this year, including some in the new market of Colorado.
Separately, Conn's received an additional $30 million of lender commitments under its asset-based loan facility, increasing total commitments to $880 million. As of Jan. 31, the company had $536.3 million of borrowings outstanding under the facility.
Latest posts by Alan Wolf
(see all)