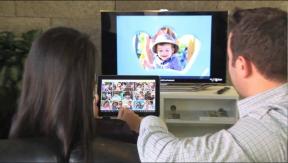 New York – An Israeli company called CompuLab has created a full-size PC that is the size of a portable external hard drive.
The 5.3-inch by 3.9-inch by 0.8-inch Utilite PC, priced at $99, can be configured several ways, but the base unit will run either Linux or Android, have a 1.2GHz dual or quad core Cortex-A9 processor, 4GB of DDR3 memory and a microSD slot capable of taking a 128GB card.
The diminutive computer's sides are filled with ports, including HDMI 1.4, DVI-D, two Ethernet, four USB 2.0, one Micro USB and two RS232 serial.
It also features Bluetooth and 8.2.11b/g/n connectivity. Power usage ranges from 3 to 5 watts.
CompuLab did not release any specifics on to whom it would be marketed or where it would be sold and emails to the company have not yet been answered.
CompuLab has produced a long line of extremely small footprint computers for use in cars, gaming systems, medical and marine fields.
Latest posts by Doug Olenick
(see all)