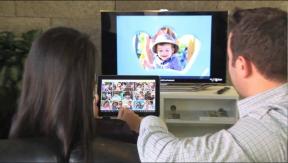 Arlington, Va. — The Consumer Electronics Association (CEA) has received the Northern Virginia Family Services' (NVFS) 2013 CARE Award for the fifth consecutive year.
The CARE Awards recognize companies in Northern Virginia that are leaders in providing a workplace that caters to the needs of working families and improving work-life balance for its employees.
"CEA is dedicated to providing an environment that supports and encourages a work-life balance for our employees. We make every effort to improve upon our commitment each year by instituting new programs and benefits that help them strike this critical balance," said Gary Shaprio, president and CEO, CEA.
"We are honored to receive this recognition from NVFS for the fifth year in a row, and will continue to innovate our workplace to keep employees happy and healthy and to continue to attract the best and brightest."
NVFS commended CEA for its leadership among Northern Virginia employers in providing innovative and supportive family friendly benefits, including which include a mortgage assistance program offering a $25,000 unsecured, forgivable loan to apply towards a down payment of a primary residence within a five mile radius of CEA's headquarters in Arlington, Va.
Other benefits include a tuition-assistance program offering employees a 75 percent reimbursement on college or university expenses, up to a maximum of $5,250 annually; instructor-led boot camp, strength training and yoga classes as well as access to a 24/7 onsite gym at no cost to CEA employees; and summer hours, allowing employees to work extra hours Monday through Thursday from Memorial Day through Labor Day in return for leaving the office at 1 p.m. on Fridays.
CEA said a flexible work arrangement, including the opportunity to telecommute one day a week, is also available.
The CARE Awards were created in 1992 to encourage positive change in the workplaces of Northern Virginia. By recognizing companies that have developed innovative benefits and policies, NVFS aims to increase family-friendly policies within the Northern Virginia business community.