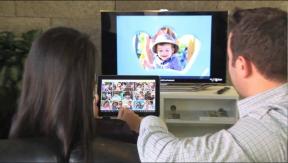 Arlington, Va. – Gary Shapiro, CEO/president of the Consumer Electronics Association (CEA) addressed The Media Institute yesterday on the topic of "Digital Ninjas – What We Need to Ensure American Leadership."
Shapiro drew on CEA's new book Ninja Innovation: The Ten Killer Strategies of the World's Most Successful Businesses to criticize broadcasters for opposing innovation, specifically noting their efforts to impede spectrum auctions.
"We are concerned that broadcasters seem less enthused about the auctions," Shapiro said. "In fact, while we were pushing for the law allowing auctions, broadcasters worked tirelessly to thwart its passage, first claiming against all credible evidence that there is no spectrum crisis, and then insisting that a complete spectrum inventory be performed prior to passage of any auction legislation. The legislation passed anyway. Now, broadcasters appear to be employing every possible strategy to slow walk the auctions."
Shapiro championed CEA's position on the issue. "CEA began the push for the law allowing spectrum auctions," he said. "We worked hard for its passage. And we want the auctions to work. That's why we are now suggesting the auctions maximize potential bidders, have clear and simple rules, balance various interests, and promote innovation by allowing flexibility in usage."
Noting the broadcasters' fight against disruptive innovations from Dish Network and Aereo, Shapiro said, "I can give many instances where the broadcasters tried to or actually thwarted or stalled technological innovation. They push mandates, like an FM chip in cell phones, or tuners in TVs, or must carry on cable, or banning of devices, or new payments on others and no payments by them to copyright owners. Their message is clear: as long as existing broadcasters have their piece of the pie, there's no need to care about everyone else. To which I respond: innovate or die." Shapiro published an op-ed in Investor's Business Daily on Aereo last Friday.
Shapiro offered the following three strategies for innovation to the National Association of Broadcasters (NAB) and the broadcast community: Compete in the marketplace; Think beyond 30 minutes; and Stop relying on Washington.
During his remarks, Shapiro also released the results of CEA's 15th Annual Household CE Ownership and Market Potential Study, noting that for the first time, the top four products in terms of increased household penetration rates are mobile products that require spectrum.
The full text of Shapiro's speech today at The Media Institute is available at http://content.ce.org/PDF/Remarks-The_Media_Institute_4.22.13_FINAL.pdf