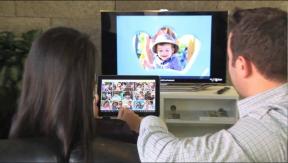 New York – 'Tis the season to sell big-screen TVs.
Super Bowl week is upon us and both the Consumer Electronics Association (CEA) and The NPD Group are ready to celebrate by pointing out the big-screen and second-screen sales opportunities that await.
According to the CEA's new "Sports and Technology Study V" report, nearly a quarter of HDTV owners in the U.S. (22 percent) purchased their televisions for the specific purpose of watching the Super Bowl.
"No other sporting event comes close to prompting that many purchases of HDTVs. Accordingly, more adults surveyed identify themselves as fans of football (79 percent) than any other sport, including baseball (53 percent), basketball (51 percent), racing (28 percent) and hockey (27 percent)," the CEA said.
This year, the CEA said, Super Bowl fans will use both televisions and Internet-connected devices to follow the game.
Of the 70 percent of online U.S. adults who plan to follow the game, 53 percent plan to watch live in high definition and 21 percent plan to watch live in standard definition.
Twelve percent will watch clips or highlights broadcast on television, and 8 percent will record the game using a DVR to watch later.
Ten percent of online U.S. adults plan to follow the Super Bowl via social media posts.
Eight percent will follow news and statistics from the game online.
Seven percent will watch clips or highlights online, and another 7 percent will watch live online.
"Sports events, namely the Super Bowl, continue to drive significant TV sales every year," said Kevin Tillmann, senior research analyst, CEA. "In fact, the impact of these sports events on consumer electronic sales is even higher when factoring in TV accessories and premium broadcast services. One-quarter of online U.S adults that subscribe to cable, satellite or fiber-to-home television service currently pay extra to subscribe to a premium sports package."
Additionally, three in 10 (30 percent) online U.S. adults are interested in watching sports events, matches or games in 3D at home.
According to CEA's "U.S. Consumer Electronics Sales and Forecast 2008-2013," published in January, sales of TV sets with 3D functionality are projected to increase 39 percent to more than 5.7 million units in 2013.
Internet-connected displays also will see strong growth this year, with unit sales reaching 12.3 million, up from 9.2 million in 2012. Furthermore, both unit sales and revenues for LCD displays are projected to increase in 2013.
Innovations within the display category are helping drive overall industry growth, despite total unit sales of displays falling slightly in 2013.
The full CEA "Sports and Technology Study V" report examines the role of technology in enabling consumers to watch and enjoy a broad range of sports events.
Meanwhile, in a recent blog, the NPD Group's Ben Arnold cited The NPD Group's Weekly Tracking Service showing Super Bowl week in 2012 was the third largest sales week of the year for TVs 50 inches and larger (behind just Black Friday and the week before Christmas), with sales that week representing a 25 percent increase over 2011.
He said expectations for 2013 are "just as strong given the overall trend towards bigger screens and higher demand in two decent-sized markets that haven't had Super Bowl fever in more than 10 years."
According to NPD findings, 55-inch sets drove almost half of the 50-inch-plus volume during the 2012 Super Bowl week; however, sales of 60-, 65- and 70-inch TVs are poised to gain share. Sales of those three sizes accounted for 5 percent of all flat panel sales during Super Bowl week — nearly the same proportion as during Black Friday – and up from just more than 1 percent the same week in 2011.
And throughout 2012, unit share of ultra-big-screen sizes steadily rose, growing from 3 percent in Q1 to just over 5 percent by Q4.
"While this is evidence that consumers are starting to gravitate towards bigger screens (and that they've become more affordable), it also shows manufacturers have recognized the opportunity, making more sets that meet the big-screen demand," Arnold offered. "In 2012, the number of TVs the top five brands in these sizes offered (Samsung, LG, Panasonic, Vizio and Sharp) nearly doubled. A quote from a well-known movie from another sport sums it up pretty well – 'if you build it, they will come.' "
Arnold said that after three weeks into the new year, the new screen sizes "look to be the MVPs of the increasingly revenue challenged TV market."
Unit sales in the period doubled compared to 2012, share has grown to 7 percent of total sales, and while the sets have become more affordable, robust demand for the foreseeable future means revenue will continue to grow, NPD believes.
Even as new premium features like voice- and gesture-recognition attempt to make TV watching a more "lean forward" activity, the one feature TV buyers have proven to always care about is large screen size, Arnold said.
Latest posts by Greg Tarr
(see all)