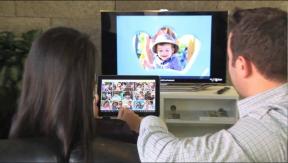 Arlington, Va. — The Consumer Electronics Association (CEA) launched an online contest on Facebook to celebrate the 55th Grammy Awards.
Winners will receive high-performance audio products so they can "hear music as their favorite artists intended," CEA said.
From now until Feb. 10, visitors to CEA's Facebook page (Facebook.com/CEAfeed) can enter to win one of three prizes to enhance their home entertainment experience.
The first-place winner will receive a NuVo P200 and NuVo Gateway wireless sound system with Triad Speakers, a $1,600 package that streams music from wireless content providers such as Pandora through high-end speakers. Another prize is a set of Clarity HD speakers from Monster at a suggested $750. A pair of $350-suggested Polk Audio UF8000 sound-canceling headphones represents the third prize.
The contest highlights the partnership between CEA and the Recording Academy Producers & Engineers Wing.
The two created QualitySoundMatters.com, which offers information on finding and enjoying quality music recordings on superior audio products, CEA said. The website features articles on products, technologies, recording artists and music producers "who are leading the way in the quality audio revolution," CEA noted.