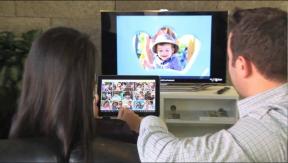 Arlington, Va. — International CES will feature a new TechZone on the Cloud and apps, called CloudBase3 Apps, during the Jan. 8-11, 2013, event in Las Vegas.
The Consumer Electronics Association (CEA), owner and producer of CES, is partnering with Living in Digital Times on the new TechZone, which is dedicated to the transition to Cloud computing.
"Cloud computing is fueling the consumer electronics industry, and business in general, by revolutionizing the way we store and access information," said Karen Chupka, events and conferences senior VP, CEA. "We are thrilled to welcome the CloudBase3 Apps TechZone and the companies exhibiting within it to the 2013 CES, and look forward to witnessing the apps and technologies on display that will facilitate our industry in migrating business to the Cloud."
The CloudBase3 Apps TechZone is designed as a showcase center for demonstrations, education and information across the Cloud computing spectrum for both small and large businesses, the CEA said.
Located at the Venetian, which will also feature several CES keynotes, Eureka Park and other exhibits, CloudBase3 Apps will showcase solutions for businesses looking to make the leap from apps hosted remotely on browser-based platforms to Cloud computing. This show floor area will be a hot spot for industry professionals, investors and media looking for resources on the cutting-edge of computing technology, the CEA said.
Companies interested in exhibiting in the CloudBase3 Apps TechZone should contact Linda Nessim at [email protected] for pricing and specifications.
In addition, Living in Digital Times will sponsor six lifestyle-focused show floor exhibit areas, some of which have associated conference programming at the 2013 CES. These include: [email protected] Summit, with video games pioneer Nolan Bushnell as a keynoter; MommyTech Summit, with David Pogue of The New York Times as its keynoter; HigherEdTech Summit, an area showcasing the technological breakthroughs that will alter what it means to go to college; Silvers Summit, with Internet pioneer and Google exec Vinton Cerf as its keynoter; the Digital Health Summit; and the FitnessTech area.
The 2013 CES will feature nearly 20 additional market-specific TechZones covering such product categories as broadband services, safe driving and sustainable technologies. For more information, including exhibitor news and registration information, visit CESweb.org.