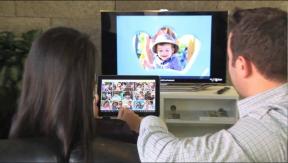 Arlington, Va. — The Consumer Electronics Association (CEA) said it is sending 40 of its members to Capitol Hill to meet with members of the U.S. House of Representatives and congressional staff to relay its 2013 innovation policy agenda.
A statement from CEA said it "will be pushing for common-sense immigration policies on the Hill to ensure the best and the brightest stay in America." During the meetings, CEA will be employing its grassroots Innovation Movement's I Am Innovation smartphone and tablet app, designed to provide a forum for personal stories of innovation in America.
Innovation Movement members will also use a text-based activation system devised by Phone2Action to show support for the Startup Act 3.0, an immigration bill introduced by one of CEA's 2013 Digital Patriot honorees, Sen. Jerry Moran (R-Kan.).
Through the Phone2Action system, people can text the word "JOBS" to "52886." They will then receive a text response back with a direct link to their own members of Congress. Phone2Action also provides a web-based form for use by those without smartphones.
The CEA will also be advocating for passage of H.R. 845, Saving High-Tech Innovators from Egregious Legal Disputes (SHIELD) Act, which would require patent trolls, if they lose in court, to pay the legal fees of the company they sued.
Supporters can text "TROLLS" to "52886" to receive a direct link to contact their members of Congress about the SHIELD Act.
CEA's annual Digital Patriots Dinner, held tomorrow, will honor Moran, Rep. Jared Polis (D-Colo.), and Dish president and CEO Joe Clayton.
Rep. Greg Walden (R-OR) also will be honored with CEA's new Innovation Policy Ninja Award.