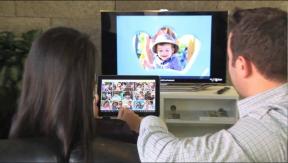 Washington — On their recent visit to Congress, Consumer Electronics Association (CEA) officials and members lobbied for passage of the SHIELD Act, a bill that would impose reforms to stop "patent trolls" who file frivolous lawsuits against tech companies.
CEA pitched the House-sponsored legislation, formerly known as "Saving High-Tech Innovators from Egregious Legal Disputes (SHIELD) Act," which is being introduced by Rep. Peter A. DeFazio (D-Ore.) and Rep. Jason Chaffetz (R-Utah).
According to CEA, under the current system it is easy to sue for a patent while expensive to defend against one. CEA's president/CEO Gary Shapiro explained that patent claims brought by "non-practicing" patent owners — mostly law firms or shell corporations — cost U.S. businesses $29 billion in 2011, double that of 2009.
Pat Lavelle, president/CEO of Voxx International, explained, "There is something wrong with a system when you win [a case] yet you lose," since, as Lee Cheng, chief legal officer of Newegg, whose company has been sued by patent trolls several time, the cost to defend a company is between $3 million and $6 million per case.
Shapiro added, "This cuts into R&D, start-up companies and jobs [it takes] billions of dollars out of the economy, which is why we are backing the SHIELD Act."
Lavelle said Voxx pays "millions in patent rights," yet in the past five or six years, "we have paid $25 million in settlements an legal bills. It takes an average of $2.5 million in legal fees to defend against such cases."
He noted, along with other executives at the briefing, that the patent trolls know the cost of defending against such cases and bank on companies to quickly settle out of court.
Lee Cheng of Newegg explained that a patent troll wanted $34 million from the company, claiming ownership of online shopping cart and checkout features for Internet retail.
"We knew our engineers designed our software themselves without any help from outside sources. They wrote code from scratch. They wanted 1 percent of our revenue," Cheng said.
"We knew if we paid one suit, we'd pay all of them, but felt that the law was on our side," he explained. Newegg won, but Cheng said, "The money spent on these suits could be used to hire new workers, create better products, better functionality for those products. It makes the U.S. less competitive economically."
Jay McLellan, president of HAI by Leviton and chairman of CEA, said the company has been sued by trolls in the past couple of years. "We are a company of 55 people with no law department. Our entire management was thrown into this case, checking the working of our journals, and we knew it would be hard to settle."
McLellan noted, "What we found that the current law is written in such a way that the accused are guilty until proven innocent."
Lavelle agreed, noting, "It takes time away from management, accounting, engineers, designers … they are a real burden to defend. If you settle it is legal extortion, which is killing American business."
Rep. Chaffetz said the proposed legislation would impose reforms that would protect entrepreneurs, such as "loser pays" allowing the losing litigant to be assessed legal fees, which would make trolls "think twice" before filing suit.
Cheng said that if you think the proposed legislation will hurt Mom and Pop developers and favor big companies, he noted, "The trolls are suing the small and big guys. It is killing innovation and entrepreneurs in this country."
Josh Mendelsohn, managing director of Hattery, a San Francisco-based venture capital fund and innovation lab for startups, said many small companies are being sued by trolls. Current patent law "prosecutes innovation" and for start-ups, a patent case could mean an end to venture funding, he said.
Julie Samuels, Mark Cuban Chair to Eliminate Stupid Patents of the Electronic Frontier Foundation, said the system is "a tax on innovation" that hurts "Mom and pop innovators … [since] it is easy to become a patent troll."
Cheng of Newegg went one further, saying that this is "a tax on everyone in this country."
To point out how prevalent such suits are, Jim Bazet, chairman/CEO of Cobra Electronics, was sued by a patent troll that day when CEA and its members were going to Capitol Hill. "That's how I spent my afternoon," Bazet said.
The hope is that once the SHIELD Act passes the House, the U.S. Senate will take up the bill later this year.
Latest posts by Steve Smith
(see all)