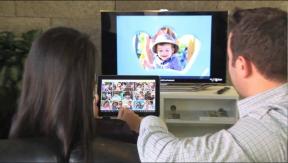 Melville, N.Y. – Canon U.S.A. introduced Wednesday its first ultra-portable 3LED-based projector targeting both business and home entertainment applications, and a lineup of Pro AV installation LCoS projectors in the company's 2013 REALiS series.
The Canon LE-5W 3LED-based multimedia projector, which ships this summer at an $800 suggested retail price, targets both corporate and home entertainment applications, and was designed to clearly present everything from spreadsheets and PowerPoint presentations to video games and movies.
Canon's Pro AV installation LCoS projectors include the REALiS WUX450 ($5,499 suggested retail), WUX450 D ($6,199), WX520 ($4,999), WX520 D ($5,699), WUX400ST ($6,899), WUX400ST D ($7,499), WX520ST ($6,299) and WX450ST D ($6,899). All are expected to ship to dealers by September.
The three-chip LCoS models all offer trim designs and weigh under 14 pounds each. They offer installation flexibility, easy set-up, and operational advantages and have been engineered for higher education, boardroom installations, museums, and other professional markets.
New REALiS models draw on Canon's optical and imaging technologies and employ built-in Genuine Canon projection lenses addressing a range of display requirements.
The new Canon REALiS WUX450 and REALiS WX520 models offer placement flexibility with consistent fixed aperture f/2.8 optics, allowing for no light loss across their 1.8x zoom range.
Designed for short-throw use, the new Canon REALiS WUX400ST and REALiS WX450ST Pro AV models employ 1.35x zoom lens with horizontal and vertical lens-shift adjustability.
All of LCoS models feature new Canon AISYS 5.0 optical engines that improve the management of light for high-resolution images.
The REALiS WUX450 and REALiS WUX400ST deliver WUXGA (1920 by1200) resolution with 4500 and 4000 lumens of brightness, respectively. The REALiS WX520 and REALiS WX450ST provide WXGA+ (1440 by 900) resolution with 5200 and 4500 lumens, respectively.
All models deliver a 2000:1 contrast ratio, 16:10 widescreen aspect ratio images.
The REALiS WUX450, REALiS WX520, REALiS WX450ST, and REALiS WUX400ST are Crestron RoomView-compatible.
Meanwhile, the LE-5W projector also features a wide range of interconnectivity options to enhance user set-up and flexibility.
An HDMI input and five different projection modes accommodate PCs, Blu-ray players, game consoles, HD streaming players, and digital cameras.
It is lightweight (3.5 pounds) and compact (9.76 by 7.60 by 2.16 inches), and enables "PC-less" smart presentations directly from a USB thumb drive, SD card, or its own built-in 1.5GB memory, Canon said.
Other features include long-life 3LED lamp technology, employing three LED lights (RGB) with up to a 20,000-hour lifespan, and 500 lumens of brightness output.
Native resolution is listed at WXGA (1280-by-800) native resolution, the contrast ratio is 3000:1 and the throw ratio is 1.2:1.
The Canon LE-5W is equipped with two built-in 2.5-watt stereo speakers, and a tripod mounting socket on its base.
In "ECO Mode," the projector consumes 30 percent less energy than running in "Normal Mode."
Built-in USB thumb drive and SD card slots, and 1.5GB of internal memory, enable the LE-5W to play multimedia files without peripheral components. Supported formats include: MJPEG, MPEG1/2/4, H.264, WMV, and RMVB video; JPEG and BMP photos; MP3, OGG, WMA, AAC, and WAV music; and Adobe PDF 1.2-1.7 and Microsoft Office (PowerPoint, Excel, Word) documents.
"The enormous growth in the use of tablet PC's and mobile devices has created demand for a new kind of high-quality, affordable projector that easily integrates with tablet PC's and AV equipment while also being ultra-portable and easy-to-use," said Yuichi Ishizuka, Canon USA Imaging Technologies executive VP. "The new Canon LE-5W Multimedia Projector is the perfect traveling companion for small business users who need to quickly and vividly share presentations or other visual information with clients."
The projector features an integrated lens cover and built-in power adaptor. The LE-5W is available in black or white cabinet colors.
Latest posts by Greg Tarr
(see all)