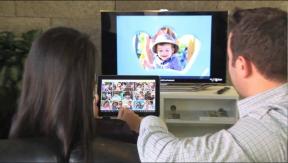 Peterborough, Ontario – Bryston has developed a digital-to-digital converter that connects a computer's asynchronous USB output to high-end legacy DACs that lack USB input.
The $799 BUC-1, available Jan. 1, is designed for consumers who download high-resolution music files up to 24-bit/192kHz but can't play them through a high-end legacy DAC.
"The BUC-1 is ideal for anyone who wants the benefits of computer-based high-resolution audio playback using an existing DAC," said sales and marketing VP James Tanner. "The BUC-1 is that critical link between older hardware and the latest high-resolution music software."
The converter takes a computer's standard USB output and delivers bit-perfect data via either an AES/EBU or S/PDIF output to any DAC, Tanner said.
The BUC-1 differs from competing devices in that it is not buss-powered via a USB cable, so it gets clean power, he noted. In addition, the Bryston BUC-1 takes control of the master timing of the audio system, rather than depend on the computer's master clock, to ensure ultra-low jitter.
The component measures 8 by 5.5/8 by 2.25 inches.
Latest posts by Joseph Palenchar
(see all)