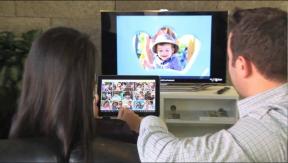 Las Vegas – BrandSource sees its group of independent retailers as "holding its own," if not more so, with national online and big-box retailers in major appliances and CE and the group hopes to increase that competitiveness with its new Cloud-based point-of-sale (POS) system.
That is the message BrandSource CEO Bob Lawrence and his group is putting forth during its annual meeting at Caesar's Palace, here, this week.
In his keynote address Tuesday Lawrence said BrandSource's key competitors are "big-box stores … such as Best Buy, Walmart and Sears … as well as Amazon."
For two of those national competitors, his view of their effects on BrandSource and the industry are directly opposite.
For Sears — the kingpin in major appliances and No. 1 in a category that represents 40 percent of BrandSource's business (CE and furniture splitting the other 60 percent of the group's sales) — Lawrence said, "It is not a matter of if Sears goes out, but when Sears goes out."
He quoted a headline from a recent story from Daily Finance: "The biggest thing on sale at Sears is pieces of Sears," alluding to the spin-offs of different divisions.
Regarding Best Buy, Lawrence said, "There's turmoil there, for any number of reasons — its competition with Amazon, the internal strife due to founder Dick Schulze trying to take it over as a private company. The reality is their problems are not good for us [in CE]."
He noted, "When Circuit City closed, independents did not benefit. Walmart and Amazon did, and they probably will if something happens to Best Buy."
But Lawrence said that so far BrandSource members should be confident about their ability to compete in appliances and CE. He said big-box stores — and Amazon — provide three advantages: price, selection and convenience.
In appliances, side-by-side comparisons of BrandSource and its top competitors — Best Buy, The Home Depot, Lowe's and Sears — showed the following, Lawrence said:
Brand Source meets competitors pricing while Lowe's is described as "aggressive" and Home Depot "at times [shows] no logic." In amount of products displayed, BrandSource typically has 225 SKUs, the same as Lowe's, but more than Best Buy and Home Depot and 75 less than Sears. For salespeople and product knowledge, the only competitor that compares with the group is Sears.
In major appliances, based on quarterly studies comparing BrandSource with national chains from last year's third quarter to this year's second quarter on unit sales shares from Stevenson Company's TraQline, Lawrence said that Sears' share has been flat, "Lowe's has been up and down, and everyone else — Best Buy, Home Depot, Lowe's, hhgregg have been flat. BrandSource has been up and down."
His conclusions: "We are doing well in holding our own" against national chains, and, "stack up very well [in key categories] against box stores, but you must let your customers know that."
In CE the same trends are there for BrandSource when compared with Walmart, Amazon and Best Buy, with BrandSource meeting competition's pricing, having knowledgeable salespeople, offering service policies on products priced lower than the competition, and providing strong financing programs.
In a TraQline survey on TV sales Best Buy and Walmart lead the pack with steady market share over the previous four quarters. In comparison to them, as well as Sears, hhgregg and "other outlets," BrandSource held its own, with steady market share over the four quarters, though with the lowest share of that group.
Where BrandSource has to do more work is in demographics, Lawrence said. Most of its CE and appliance sales come from those older than 45, and "for those 65 years old, we are golden," he said, but as it group, it has to get younger.
Expert Tech, the group's new Cloud-based POS system, should not only help get its members out of the IT business and focused on selling more CE, appliances and furniture, it should help attract younger consumers and younger salespeople.
Lawrence said that via mobile devices, "52 percent of your customers are shopping another store while they are in your store," which is why BrandSource developed its own app for consumers and members to "attack that."
The Expert Tech POS system, which TWICE reported on last week, is linked to the BrandSource app and provides a full, double-entry accounting system; true cost-inventory management; live inventory for all members; and instant rebate tracking for members and for reporting to vendors, as well as other features.
Andy Whiteside, head of BrandSource Cloud operations, said the system also enables members' salespeople to "use their own tablets, Ultrabooks — whatever they want to use — to download information about individual products instantly on the sales floor. This will not only make them more efficient, it will attract more younger salespeople and younger consumers."
The system will be available to all as of Jan. 1.
As Lawrence put it, "Expert Tech is a game-changer. We can now report real time sales data to our suppliers and puts us on equal footing with [national retailers] to make us a channel of choice. This is a game-changer."
Latest posts by Steve Smith
(see all)