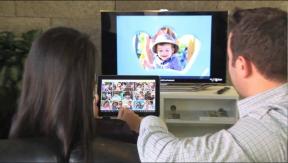 New York — Boomboxes from the '80s and '90s are making a minor comeback, but they're being updated with 21st century Bluetooth.
Pyle Audio launched its $249-suggested Street Blaster, a cylinder-shaped portable Bluetooth speaker equipped with NFC and styled like a boombox.
And Naxa and QFX introduced Bluetooth boomboxes at International CES.
Pyle's Street Blaster is the brand's largest and most powerful outdoor Bluetooth speaker ever. It's said to deliver 1,000-watt stereo output and comes with rechargeable battery that lasts from four to six hours, a spokesperson said.
The Street Blaster also features microphone and guitar inputs for bands to amplify live music. Users can adjust treble, bass, echo, volume, microphone and guitar levels.
The boombox also feature 3.5mm aux in and a USB port to charge smartphones and other devices. Blinking LED lights pulse to the music.
The product measures 24.5 inches by 10 inches by 10 inches.
At CES, Naxa unveiled the NPB-262 Sound Tube boombox at an expected retail price of $99. It features AM/FM tuner, CD player, USB input, dual-voltage capability and shoulder strap.
Also at CES, QFX unveiled two Bluetooth boomboxes. The $79 J-105BT featured USB, memory card slot, FM, aux in and LED display. The $99 J-110BT was a cylinder-shaped model with USB, memory card slot, FM, aux in and LCD display. It measured 20.5 by 7.5 by 9.5 inches.
In 2013, Bluetooth boomboxes from start-ups Bem Wireless of Chicago and G-Project of Los Angeles introduced Bluetooth boomboxes. iLive also offers a selection of Bluetooth boomboxes.
Pyle is owned by Sound Around, which also markets car audio products under the Lanzar, Legacy and Pyramid brands. Sound Around also sells car audio, pro audio and musical instruments under the Pyle name.
Latest posts by Joseph Palenchar
(see all)