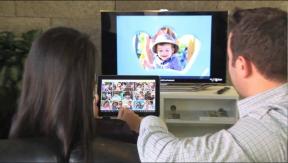 By Joseph Palenchar
New York – Barnes & Noble didn't launch a new Nook for the recent Christmas selling season but promises to launch a new model sometime after April, said CEO Michael Huseby.
He also warned that the company might need to take "additional actions" to pare Nook expenses despite a staff reduction in the fiscal 2014 third quarter ending January 24.
In the quarter, he said, "Nook losses narrowed significantly as we achieved our objective of selling through much of our pre-holiday device inventory while managing promotions to optimize sales." The company "executed its plan to sell through most of its existing device inventory, while also building additional tablet devices to meet holiday and post-holiday demand, using previously acquired parts and components," the company added in a printed statement.
Huseby added that the company is "committed to delivering world-class reading experiences to our customers through our reading centric e-Ink and color reading devices." The company, he added, "is actively engaged in discussions with several world-class hardware partners related to device development as well as content packaging and distribution."
In part because of the lack of new products, Nook-segment sales, including e-books and hardware, declined 50.4 percent in the quarter to $156.9 million. The segment's EBITDA losses, however, shrank 67.5 percent to $61.8 million.
B&N's consolidated sales fell 10.7 percent in the quarter to $2 billion, and net income for the quarter hit $63.2 million compared to a year-ago net loss of $3.7 million. For the year-to-date, the company posted a net loss of $10.6 million, down from the year-ago net loss of $43 million.
Latest posts by Multichannel Staff
(see all)