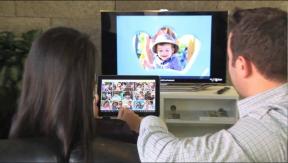 Las Vegas – Stereo Bluetooth is appearing in a growing selection of tabletop speakers at the low to high ends as audio suppliers acknowledge the market share of Android mobile devices and the growing number of households that own a mix of Apple and Android devices.
Here at CES, multiple suppliers are launching their first Bluetooth-only speakers, others are expanding their portfolio of Bluetooth-only speakers, and other suppliers are adding Bluetooth to speakers that incorporate docks for Apple mobile devices.
Many of the new models feature nearfield communications (NFC) to enable one-tap pairing with NFC-equipped mobile devices.
First-time Bluetooth-speaker suppliers include Blue Aura and Definitive Technology, with Sony re-entering the market, Spectra expanding its Jensen-branded Bluetooth portfolio, and Ion Audio expanding its Bluetooth-speaker selection.
For its part, Ferrari by Logic3 is adding two new Bluetooth-equipped speakers, all with 30-pin dock to charge Apple devices and USB port to charge other mobile devices. And headphone supplier Soul is adding its first speaker, which incorporates 30-pin Apple dock as well as Bluetooth.
Here's what the companies have unveiled:
Blue Aura: The company's first Bluetooth speakers, due in the second quarter, consist of the single-chassis X10i and the X30i, the latter consisting of separate left-right speakers. Both models, whose prices were unavailable, stream the aptX codec over Bluetooth to improve sound quality. Both also feature nearfield communications (NFC), and both feature optical digital input and built-in DAC to connect to digital audio sources. They also feature analog-audio inputs.
The X10i features two 2-inch full-range drivers complemented by a 4.5-inch woofer. The two-enclosure X30i is a two-way system with 3.5-inch woofer, 0.75-inch soft-dome tweeter, and 50-watt Class A/B amplifier.
Blue Aura also markets wireless speakers that use a proprietary 2.4GHz technology to stream music from PCs.
Ferrari by Logic 3: The marketers of Ferrari-branded headphones and tabletop speakers is expanding its selection of Bluetooth-equipped tabletop speakers with the $649 Cavallino GT1, which recently shipped with 30-pin dock to charge and play Apple devices and with a USB charging port. The planned Cavallino GT1 Air offers these features and adds Apple AirPlay. The GT1 Air's price and ship date were unavailable.
The company already offers the Scuderia FS1 and FS1 Air with the same features as their Cavallino counterparts.
Ion Audio: The company will expand its Bluetooth selection with two tabletop speakers that look like 50s-era jukeboxes. The $99-everyday Bluetooth Jukebox and the $179 Bluetooth Retro Rocker ship in June, the latter with juke-box bubble lights.
Two new portable Bluetooth speakers include the portable Clipster, which clips onto backpacks and ships in June at $29 on promotion. The second portable is the $49-everyday Sound Splash Bluetooth, a water-resistant shower speaker that adds hands-free Bluetooth.
Soul: The headphone brand launched its first speaker, the $999 Party In A Box. The 25-pound AC/DC speaker features 30-pin Made for iPod/iPhone/iPad dock on front, Bluetooth with apt-X codec, 80-watt output, eight drivers, karaoke features, guitar input, HDMI output to pass through Apple-stored video with up to 420p resolution, two VU meters, and USB charging port. The speaker accepts up to two optional NiMH battery packs, each delivering 4-hour playback time. The battery packs retail for about $79 to $99, a spokesman said.
The Soul speaker also features four-zone Clearnet technology to wirelessly stream CD-quality music from Hewlett Packard computers incorporating the technology.
Details of the Sony, Definitive, and Spectra products appear in the Jan. 8 issue of TWICE.
Latest posts by Joseph Palenchar
(see all)