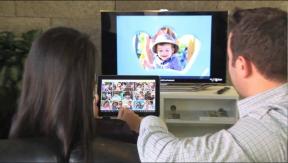 Chicago — At least one more company has launched a wireless speaker that plugs into a home's AC outlet like a night light.
Start-up Bēm Wireless launched the $99 outlet speaker, a mono Bluetooth speaker available now on the company's website and in March at Amazon and Target.com.
Amazon and Target will also offer other Bēm Wireless speakers, including a $249 AC/DC Bluetooth boombox with handle and the $299 Speaker Trio. The Trio consists of three mono rechargeable speakers that stream music from up to 120 feet away from the Trio's recharging base over the 2.4GHz band. Music is streamed to the base via Bluetooth.
For its part, the outlet speaker is available in black or white and designed to take up little space, particularly in kitchens, where counter or tabletop space might be at a premium. The speaker also features a USB port to charge a mobile device as well as an aux in and aux out. It measures 3 inches by 5.35 inches by 2 inches.
Last year, JBL launched two wireless speakers that plug into a home's AC outlet. The one-piece speakers were the $179-everyday SoundFly BT Bluetooth speaker and the $199 SoundFly Air with built-in AirPlay and Wi-Fi.
These speakers were also designed for bathrooms, kitchens and other rooms in which tabletop or counter space is limited, the company said at the time.
Each JBL speaker is about 7 inches wide in back. The front is not as wide. The speakers incorporate two full-range drivers, an amp rated at about 2×5 watts, and DSP to enhance sound quality. Up to four speakers at a time can play back music streamed from a PC's iTunes application.
Latest posts by Joseph Palenchar
(see all)