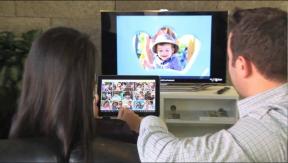 New York — Remember when boomboxes had an AM/FM tuner and CD player, or tuner and dual cassette mechanisms?
The latest boomboxes strip out those "technologies" and replace them with stereo Bluetooth, turning cellphones and tablets into music sources for boomboxes.
The latest Bluetooth boomboxes include the first Bluetooth boomboxes from startups bēm wireless of Chicago and G-Project of Los Angeles. Bem specializes in Bluetooth speakers, and G-Project specializes in portable speaker systems, including Bluetooth speakers and a planned speaker with only an auxiliary input.
The two companies' new boomboxes feature integrated carrying handle and rechargeable batteries. Both models stream music in Bluetooth's SBC codec but do not stream AAC or AptX over Bluetooth.
Bem's $249 "boombox" features 2.1-speaker system, 10 hours of playback time, auto pairing, aux in and out, and Bluetooth AVRCP to control the play/pause functions of a wirelessly connected mobile device. It measures 12 by 9.5 by 5 inches, and it's available through Amazon and Bem's own website.
G-Project's G-Boom, available at Target stores at $100, features two-way 2.2-speaker system, Bluetooth AVRCP, USB charging port, six hours of battery life for Bluetooth streaming and aux-in playback. The boombox measures 11.8 by 4.9 by 10.2 inches.
"When boomboxes were first introduced, they were intimidating and pumped out some heavy bass," said G-Project founder Matthew Paprocki. "With G-Boom we are bringing the boombox back and adding the convenience of wireless."
Latest posts by Joseph Palenchar
(see all)