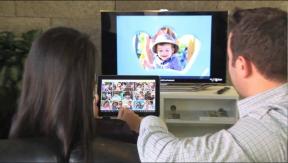 Port Washington, N.Y. – CE sales rose 10 percent during Black Friday week, which represents the first double-digit increase for the category in three years.
According The NPD Group's Weekly Tracking Service, the tech tally for the Nov. 24-30 period hit nearly $5 billion. Of that, TVs, tablets and notebooks accounted for $3.1 billion.
NPD industry analysis VP Stephen Baker noted that "The most significant sign of positive holiday momentum is that all of the top five categories delivered positive revenue in 2013."
TVs were the largest revenue generator with more than $1.4 billion in sales, up 5.6 percent over last year, while unit volume soared nearly 16 percent to more than 4.7 million units, due in part to record low average selling prices (ASPs) on smaller screen TVs. Indeed, unit volume for 32-inch sets was up 40 percent as ASPs fell from $194 to $137 year over year.
Volume growth for 60-plus-inch displays was even greater, rising 62 percent as ASPs fell from $1,064 last year to $1,005. Vizio, Samsung and Sharp were the top big-screen sellers with unit shares of 55 percent, 29 percent and 8 percent, respectively.
Tablets were the second highest revenue generating category during Black Friday week, and posted unit volume gains of 105 percent. PC and tablet volume together increased 58 percent to nearly 5.9 million units, with desktop unit volume up 7 percent and notebooks falling 2 percent.
Broken out by operating system, Apple had a strong holiday week as it participated more aggressively in Black Friday sales promotions than ever before, NPD said. IOS sales were up 34 percent in notebooks, 51 percent in tablets and 277 percent in desktops.
Meanwhile, unit volume for Android-based tablets climbed 146 percent, and revenues jump 70 percent, although selling prices dropped from $151 to $105. Seven-inch Android tablets accounted for 80 percent of all Android tablet sales, with 1.8 million units moving out at an ASP of $82.
Windows devices grew 8 percent as an aggressive Surface promotion and the introduction of smaller Windows tablets offset declines of 8 percent and 9 percent in desktops and notebooks, respectively.
In contrast, newer product categories enjoyed significant growth. Streaming speakers were up 154 percent in dollars and 281 percent in units as ASPs fell from $109 to $73 year over year; and streaming video devices were up 91 percent in dollars and 125 percent in units as ASPs fell from $65 to $56.
And three categories ran counter to the typical CE profile by experiencing increased sales on higher ASPs. Among them: soundbars, up 86 percent in dollars and 74 percent in units as ASPs rose from $117 to $126; headphones, up 70 percent in dollars and 14 percent in units as ASPs rose from $27 to $41; and camcorders, up 59 percent in dollars and 16 percent in units, as ASPs increased from $132 to $180.
NPD's Baker observed that some of the newer product categories made substantial contributions to the Black Friday sales totals. "We are beginning to see emerging product categories contribute significantly to the overall market growth," he said. "For example, headphones didn't break into 2010's Top 50, but they were the fourth largest revenue category in 2013."
Latest posts by Alan Wolf
(see all)