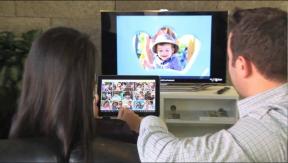 New York – Best Buy and Samsung officially kicked off their much ballyhooed in-store boutique program at a Manhattan launch event this morning.
On hand at the chain's Union Square store were Best Buy CEO Hubert Joly, Samsung IT and mobile president/CEO JK Shin, and other senior executives.
The new Samsung Experience Shop, like the first 200 mini stores that preceded it, features an edited assortment of Samsung cellphones, tablets, laptops, cameras and accessories.
Joly said the live displays, along with sales assistance from Best Buy and Samsung staff, will allow customers to "feel, touch and experience great products and see how they all work together."
Tim Baxter, president of Samsung's consumer electronics division, noted that the advent of digitally converged hybrid products, and the evolving way consumers use them, are compelling vendors and retailers to market and merchandise advanced devices in new and different ways.
Joly described the effort as "a great partnership" based on Samsung's need to showcase the fruits of billions of dollars in R&D in front of the largest audience possible, and Best Buy's ability to draw 600 million store visits and 1 billion web visits annually.
The rollout will begin in earnest this month, Best Buy merchandising VP Scott Anderson told TWICE, reaching all 400 Best Buy Mobile stores next week, 500 more big-box stores by mid-May, and blanketing virtually all Best Buy locations by early June.
Latest posts by Alan Wolf
(see all)