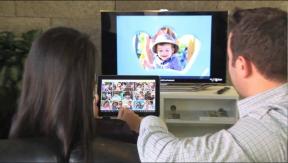 New York — Best Buy president/CEO Hubert Joly and two of his top lieutenants provided a frank assessment of the company's shortfalls and an overview of its opportunities at his first formal meeting with the investment community here yesterday.
No detailed strategic game plan was presented at the event, which was intended instead to introduce the new management team to analysts and share its thinking about the company and the marketplace.
To that end, Joly identified Best Buy's most pressing challenges — declining comp sales and margins — while digital and marketing chief Stephen Gillett and newly named U.S. retail head Shawn Score outlined a host of initial fixes that they said could readily stabilize those metrics.
Central to the company's turnaround efforts, which it has labeled "Renew Blue," are a series of broad-stroke goals such as developing a world-class website and multichannel platform, attracting top-flight management talent, reenergizing its in-store labor force, and improving the customer experience.
While executing against those longer-term goals, Best Buy could realize, at a minimum, $1.7 billion in increased operating income through what Gillett described as "low-hanging fruit." Such "Retail 101" opportunities include improving conversion and close rates through improved in-stocks, better website functionality, more competitive pricing, and better trained and incentivized sales associates.
Other "basic blocking and tackling" measures includes reallocating increased store space to better-selling categories, and scheduling more store staff for the busiest days of the week, Score said. "Those are obvious and immediate opportunities and we should have been doing that already," he noted.
Joly also cited opportunities to trim costs and boost margins by reducing returns, expanding the private-label business, "optimizing" the assortment and vendor terms, improving operational efficiencies, streamlining the organization, and rationalizing stores "on an ongoing basis."
Joly wouldn't provide a projected store-closure count, but cited 64 large-format locations with low productivity and/or leases that will expire soon. Criticizing prior management for adding new stores during a recession, he pointed to the company's hometown Minneapolis-St. Paul market, where four overlapping big-box stores will be closed over the next four years and nine smaller-format Best Buy Mobile stores will be added, resulting in a projected 20 percent increase in both revenue and operating income per square foot.
Best Buy will also put the brakes on rolling out any additional "connected" prototype stores until the format can be perfected and the return on investment can be better quantified, although early results from its test-lab store near headquarters in Richfield, Minn., show improved customer satisfaction and sales growth.
Joly stressed that Best Buy "is not a brick-and-mortar retailer," and noted that "online is a big part of our future."
The CEO also said the company must address the consumer misperception that its prices are higher than those of its competitors. The chain is already price-competitive on larger items like TVs and major appliances, he said, and must extend that pricing parity to accessories, smaller products and the online assortment "without driving margins to the ground" through improved operational efficiencies and unique offers.
On a reflective note, Joly described Best Buy as an American icon, and said he was sad to see how it lost ground over the last few years as market share eroded and foot traffic declined. He said there is no single diagnosis about what went wrong with the business, and that there may never be, although most of the ills were of its own making, rather than structural.
He added that he trained his whole life for the job and will help make Best Buy great again by building on such strengths and extraordinary assets as share leadership within a fragmented retail marketplace; a massive customer base that includes 40 million active loyalty program members; its multichannel capabilities and standing as the country's 11th largest e-tailer; and its unique ability to present a comprehensive assortment of the latest products and services with impartial advice in one place.
"Our goal," he said, "is for Best Buy to thrive as the preferred authority and destination for technology products and services."