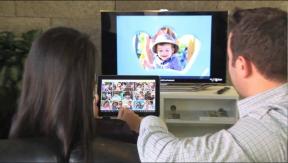 Minneapolis — Best Buy began airing a series of comic holiday commercials during last night's broadcast of the World Series that touts the benefits of its brick-and-mortar stores.
The spots, featuring actors Will Arnett, LL Cool J, Maya Rudolph and Jason Schwartzman, highlight the chain's multichannel capabilities and the advantages of its physical stores.
The celebrities appear in separate vignettes as storytellers relating tales of potential holiday shopping disasters that were averted by patronizing the No. 1 CE chain. The tagline: "Your ultimate holiday showroom."
"Consumers want the right gifts, at the right price, as easily as possible," said marketing senior VP Scott Moore. "Whether in store or online, there's no better way to shop for consumer electronics this holiday."
The campaign, created by CP+B, Best Buy's advertising agency of record, was shot by directors Will Speck and Josh Gordon ("Blades of Glory," "Cavemen") and Academy Award-winning director of photography Bob Richardson ("Django Unchained," "Hugo," "Kill Bill," " Casino" and "Platoon").