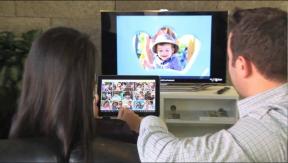 St. Louis — Azione Unlimited (AU) recognized its top performing vendors in 2012 at the group's spring conference here earlier this month.
Awards bestowed by the education/buying group for integrators and custom retailers included:
* The Golden Goose Award, for most profitable vendor for the fourth quarter of 2012, given to Integra and accepted by sales director Keith Haas;
*The Highest Vendor Sales Award, given to Sonance and accepted by specification sales director Chet Flynn;
*The Highest Growth Percentage Award, given to Access Networks and accepted by sales and marketing VP Aaron Gutin;
*The Steady Growth Award, earned by Liberty AV Solutions and accepted by president Ed Jankowski; and
*The Coming on Strong Award, acknowledging sizable improvements in business, presented to URC and Wyrestorm, and accepted by Scott Srolis and Martha Brooke, respectively.
The conference, held at the Hyatt Regency St. Louis at The Arch, focused on a three-year strategic plan for the group.