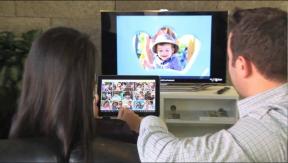 New York — The AVnu Alliance, a manufacturer group that promotes the IEEE's AVB (AudioVideo Bridging) network standard, is turning its sights on the residential audio market after having developed audio-interoperability specifications for the pro audio market.
The Beaverton, Ore.-based organization plans to meet with manufacturers during the CEDIA Expo to promote its plans to develop AVB interoperability specifications for residential audio applications, said Intel's Greg Schlechter, the alliance's marketing workgroup chairman and an alliance board member.
The group is also establishing a dealer council to get input from dealers and integrators on what they want to include in interoperability specifications.
"We want to do what the Wi-Fi Alliance did for the [wireless] 802.11 specifications," Schlechter said.
AVB is a Wi-Fi- and Ethernet-based standard that establishes quality-of-service performance levels for distributing audio and video over a Wi-Fi or Ethernet network and ensures the synchronization of content in multi-room applications. AVB "upgrades Wi-Fi and Ethernet but doesn't replace them," he noted.
In the home, AVB-equipped audio and video products would share the same Wi-Fi or Ethernet network as home computing devices.
The group isn't currently developing interoperability standards for residential video distribution because most interest from the CE industry so far has been in multi-room audio, Schlechter said.
Video interoperability specifications for the pro market are currently in development, and the group has developed wired audio and video interoperability specifications for the automotive market.
In the home market, the alliance has established a technology working group to develop Wi-Fi- and wired-Ethernet-based specs for audio. The group could take one to two years to finalize the specifications. Before then, however, CE suppliers might begin offering AVB-based products, though they would be not be certified as being interoperable with other brands of AVB-equipped gear, he said.
The final interoperability specs could include the IEEE's Power Over Ethernet to drive in-wall amplified speakers, required support for select audio codecs, and other elements, but at a minimum, the specs will ensure that different manufacturers implement time-synchronization techniques and QoS in the same way so that different-brand products work together, Schlechter said.
The AVB specs would provide advantages over DLNA specifications, Schlechter added. DLNA, which is an enhancement to Wi-Fi and Ethernet networks, solves different issues, such as the ability to discover devices on a network, assess what audio and video codecs they're compatible with, and ensure that a compatible audio and video stream is delivered, he said. DLNA, on the other hand, doesn't address synchronization, nor does it address separate left-right networked speakers, he said.
DLNA's discovery and format-compatibility requirements, however, could end up in the AVnu interoperability specs, he noted.
Although multiple suppliers, including Sonos and DTS's Phorus subsidiary, have developed products with their own proprietary wireless solutions for synchronized multi-room audio in the home with QoS standards, Schlechter sees manufacturers jumping on the AVB bandwagon to meet demand from retailers and integrators demanding products with cross-brand compatibility.
AVnu-certified AVB, however, could be competing in the wireless-audio segment with DTS, which has developed time-sync and QoS standards for its wireless tabletop speakers and is marketing those standards to other companies. Apple's wired- and wireless AirPlay standard is also used in multiple home-audio products, but as with DLNA, "it [AirPlay] is a different function on the network and technically could at some point utilize AVB for synchronization, etc," Schlechter said.
Schlechter can be reached at [email protected].
Latest posts by Joseph Palenchar
(see all)