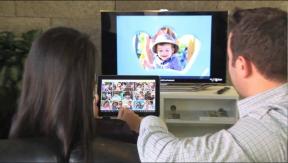 Denver — Auralic will turn up Friday at the Rocky Mountain Audio Fest to launch the first-of-their-kind Gemini 1000 and 2000 headphone docks.
The docks combine Class A headphone amp, multi-format USB DAC, music-file decoding and solid-state music storage in a compact tabletop form that also stores a person's headphones.
They will be available at retail in November at a suggested $995 and $1,995, respectively.
Both are controlled through an onscreen computer interface. Both decode high-resolution DSD64, DSD 128 and PCM, the latter with sampling rates from 44.1kHz to 384kHz with up to 32-bit resolution.
The docks, which are less than a foot tall and weigh 6.2 pounds for stability, are sculpted to resemble the shape of a human head and neck. A person's headphones can be placed on top for storage. The upper portion of the dock is made from wood with five coats of hand-polished laquer in a choice of five colors. The brass bases are also available in different color.
The docks can be placed on night stands or end tables at home and taken to the office or vacation home, the company said.
Through the docks, users can listen to music stored on a USB-connected PC, stored on a USB-connected Android device, or stored on an SDXC card with up to 2TB of storage. An optical digital input connects to other music sources.
The Gemini 2000 features single-ended and fully balanced operation and Class A headphone amp with outputs up to 2,000mW. The Gemini 1000 is a single-ended design with Class A amp with up to 1,000mW output. The 2000 delivers more dynamic range and less distortion than the 1000.
Both feature four-pin XLR and 0.25-inch headphone connections, on/off button, input-selection button and volume control.
The company entered the U.S. market earlier this year with hand-built computer- and headphone-oriented audio components. Beijing-based Auralic was founded in 2009 and this year set up Auralic Americas in Vancouver, Wash., to handle U.S. sales and marketing.
Other Auralic products include the $1,899 Taurus MK II headphone amp with balanced Class A output, $3,499 Vega DSD/PCM DAC/preamp, $2,100 Taurus Pre fully balanced line-stage preamp, and $2,499 Merak monoblock hybrid Class A amp.
Latest posts by Joseph Palenchar
(see all)