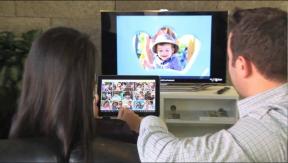 Las Vegas – AudioControl is bringing to International CES an audiophile-grade amplifier/DAC intended for use with wireless multiroom-audio systems, including Sonos systems.
The $799-suggested compact Rialto 400, which ships a few weeks after CES, can be connected to a pair of passive speakers and the Sonos Connect wireless receiver, which connects existing sound systems or powered speakers to a Sonos wireless-audio network.
The device combines 2×100-watt amp (into 8 ohms) and high-end DAC circuitry to target consumers looking for step-up alternatives to Sonos's powered tabletop speakers and to Sonos's own amplifier/receiver. The Rialto is also positioned as a lower-priced alternative to adding a separate DAC and separate amplifier to a Sonos receiver.
Rialto, which features digital and analog inputs, can also be used as a TV amplifier or as a local amplifier for any other audio source.
The amp section also delivers 2×200 watts in 4-ohm loads.
The product was first shown at the 2012 CEDIA Expo but has been updated since with such additional features as a 12-volt trigger input.
The Rialto 400 measures 5.4 inches by 2.9 inches by 8.5 inches. Its chassis incorporates Wolfson DAC, two digital inputs for connection to a Sonos receiver or other local source, and three analog inputs.
The Rialto 400 also features AudioControl's SMART Signal Sensing technology, which lets users prioritize input selection based on personal preference, and patent-pending AccuBASS circuitry, which lets users adjust bass output relative to increased or decreased volume level to produce accurate bass at low listening levels.
An integrated headphone jack is also included.
Latest posts by Joseph Palenchar
(see all)