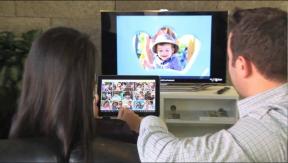 Montebello, Calif. –– Audioaccess has begun shipping the $2,195-suggested PX-800 16-source, 16-zone audio router/switcher, and the company plans May shipments of a protocol converter that makes the router compatible with the company's older in-wall keypads.
The protocol converter is the $499-suggested CPC-800.
With both products, installers can replace a broken Audioaccess router, or replace a model that had been removed by a home's previous owner, without also replacing the system's in-wall keypads, said senior sales and marketing VP Jeff Hipps.
The CPC-800 accepts the four-wire inputs from up to six Audioaccess KPS-101 keypads, reads their RS-845 codes, and converts the codes into RS-232 commands to control the PX-800's source, zone and level controls.
The PX-800 works with control systems that takes IP, IR and RS-232 commands from "virtually any third-party control system," the company said.
Sixteen sources are routable to 16 separate zones, and the zones can be combined in up to 10 separate groups. A program can also be routed to all zones. Each zone offers independent digital 10-band EQ, bass/treble and balance controls. Smart Ramp digital volume control prevents abrupt volume changes, and a low-pass filter enables the addition of a subwoofer in each zone.
The 16 audio inputs and outputs are RCA analog. A 12-volt trigger turns on/off a connected amplifier based on commands or the presence of audio signal.
It comes with rear-panel IR input, front IR sensor, capacitive touch buttons and knob with LCD screen.
Audioaccess is a division of Amplifier Technologies.