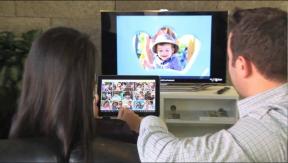 Dallas — AT&T's wireless operations posted a 53.8 percent gain in operating income in the fourth quarter on a 4.5 percent revenue as operating margins rose 21.4 percent from the year-ago 14.5 percent.
Revenues were up because of rising average revenues per subscriber, thanks to higher smartphone data usage, and to fourth-quarter retail postpaid subscriber churn that hit a record fourth-quarter low of 1.11 percent, down from a year-ago 1.19 percent.
Rising fourth-quarter margins were the result lower year-over-year sales of smartphones, which are heavily subsidized, and the impact of AT&T's Next program in which consumers pay an unsubsidized price for a phone over time, the company said. In the quarter, 15 percent of postpaid smartphones activated, or 1 million, were purchased under the Next program, with that percentage growing toward the end of the quarter to 20 percent, the company said.
Next's success highlights an industrywide shift by consumers to spend more on their handsets in exchange for lower service prices, said AT&T chairman/CEO Randall Stephenson.
AT&T's revenue and margin gains in the quarter came despite double-digit percentage declines in net new subscribers. The carrier posted far fewer retail postpaid net adds in the quarter than either Verizon Wireless or T-Mobile.
In other comments, Stephenson vowed that AT&T would become "disruptive" in the prepaid market as a result of its acquisition of prepaid brand Cricket. That transaction is expected to close at the end of the first quarter.
The carrier will also target postpaid value customers with several initiatives, including value-priced mobile-share plans and targeted promotions.
In the quarter, wireless operating revenues grew 4.5 percent in the quarter to $18.4 billion and for the full year by 4.7 percent to $69.9 billion.
Operating income grew 53.8 percent to $3.95 billion in the quarter and by 8 percent for the year to $17.9 billion
Operating income margin grew to 21.4 percent in the quarter from the year-ago 14.5 percent and to 25.6 percent for the year from 2012's 24.9 percent.
Average revenue per subscriber for retail postpaid subscribers grew 2.1 percent in the quarter. The percentage includes postpaid phone and tablet plans. Phone-only postpaid ARPU rose 3.9 percent.
Total wireless net adds fell 26.1 percent in the quarter to 809,000, with retail postpaid net adds falling 27.4 percent to 566,000 while the retail prepaid subscriber base shrank by 32,000. In addition, the company's reseller subscriber base dropped by 123,000 subscriptions, but connected-device net adds grew 61.8 percent to 398,000.
AT&T's addition of 560,000 net new postpaid subscribers in the quarter was well behind Verizon's 1.57 million and T-Mobile's 869,000. For the year, ATT's retail postpaid subscriber net adds of 1.78 million was also behind Verizon's 4.12 million.
Also in the quarter, AT&T activated 7.9 million smartphones, up sequentially from the third quarter's 6.7 million but down from the year-ago 10.2 million.
Smartphones accounted for 93 percent of postpaid phone activation compared with the year-ago 70 percent, expanding the postpaid subscriber base using smartphones to 77 percent.
More than half of AT&T's postpaid subscriber base uses a 4G LTE phone, and 77 percent use either a 4G LTE or 4G HSPA+ phone.
Net retail subscriber additions (postpaid and prepaid combined) for the year fell 27.7 percent to 2.72 million even though postpaid retail nets adds rose 23.5 percent for the year to 1.78 million. The retail prepaid subscriber base shrank by 13,000, and the reseller subscriber base shrank by 1.07 million. Connected-device net adds, however, rose 73.5 percent 2.03 million for the full year.
With the additions, AT&T's subscriber base expanded 3.2 percent to 110.4 million, up from 2012's year-end 107 million, which itself was up by 3.6 percent.
Latest posts by Joseph Palenchar
(see all)