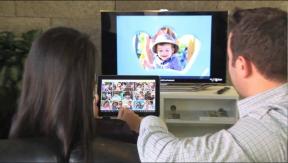 Dallas – AT&T activated more iPhones and more smartphones in the fourth quarter than in any previous quarter, the company announced.
The carrier sold 8.6 million iPhones in the quarter, exceeding the previous quarterly record of 7.6 million in the fourth quarter of 2011. Total smartphone activations of 10.2 million in the fourth quarter exceeded the year-ago quarter's activations by 800,000. Sixteen percent of the quarter's iPhone activations were new subscribers to AT&T.
AT&T also said its Android smartphone sales enjoyed their best-ever quarter.
AT&T's iPhone and smartphone sales performance exceeded that of Verizon Wireless, whose fourth-quarter smartphone activations hit a record 9.8 million, with 6.2 million of them being iPhones. Only about half of Verizon's iPhone activations were iPhone 5 models, with the rest being older models. AT&T did not break out iPhone sales between the new model and older models.
All told, smartphones represented 89 percent of AT&T's postpaid phone sales in the quarter. At the end of the quarter, 69.6 percent, or 47.1 million, postpaid phone subscribers used smartphones, up from a year-earlier 58.5 percent, or 39.4 million, AT&T said.
AT&T's smartphone ARPU is twice that of non-smartphone ARPU, and about 90 percent of smartphone subscribers are on FamilyTalk, Mobile Share or business plans, the company said.
About 55 percent of AT&T's postpaid smartphone customers use a 4G-capable device.
In reporting total net subscriber additions, AT&T said it posted a net increase of 1.1 million in the fourth quarter, down 56.2 percent from the year-ago quarter, with full-year net adds down 51.1 percent to 3.76 million. The net adds include postpaid, prepaid, reseller, and connected-device subscriptions.
The carrier's more lucrative postpaid net adds, however, gained in the quarter and full year by 8.8 percent and 0.6 percent, respectively. Postpaid net adds hit 780,000 in the quarter, marking the highest gain in 12 quarters, the company said. The postpaid gain reflected accelerated adoption of smartphones, sales of tablets and growth in Mobile Premise services, the company said.
Connected-device net adds fell 76.1 percent to 246,000, and reseller net adds fell 60.5 percent to 234,000. Prepaid subscriptions shrank by 166,000 subscribers because of declines in GoPhone and session-based tablets, the company said.
Branded computing subscribers, included in the previous categories, hit 6.4 million, up 26 percent from a year ago. Branded computing devices include tablets, tethering plans and other data-only devices. Branded-computing sales have been slowed by the launch of Mobile Share plans, which include tethering.
AT&T added almost 400,000 postpaid tablets in the quarter.
The carrier's subscriber base ended the year 107 million, up 3.6 percent from a year earlier. The number includes prepaid, postpaid, reseller, and connected-device subscriptions.
The subscriber and smartphone gains boosted wireless revenues in the quarter by 5.7 percent to $17.6 billion and for the year by 5.6 percent to $66.8 billion.
The surge in sales of heavily subsidized smartphones, however, took a toll on the bottom line, with wireless operating-income margin shrinking to 14.5 percent from the year-ago 15.5 percent. The full-year margin, however, was up to 24.9 percent from the previous year's 24.7 percent.
Wireless operating income slipped 1.2 percent to $2.57 billion in the quarter but was up for the full year by 6.3 percent to $16.6 billion.
For the quarter ended December 31, 2012, AT&T's consolidated revenues totaled $32.6 billion, up 0.2 percent versus the year-earlier quarter and up an even an additional 2.8 percent when excluding revenues primarily from the divested Advertising Solutions business unit as well as the impact of Superstorm Sandy.
Compared with results for the fourth quarter of 2011, operating expenses were $38.5 billion versus $41.5 billion; operating loss was $6.0 billion, compared to a loss of $9.0 billion; and AT&T's operating income margin was (18.3) percent, compared to (27.7) percent.
Fourth-quarter 2012 net income attributable to AT&T totaled $3.9 billion, compared to $6.7 billion in the year-earlier quarter.
Latest posts by Joseph Palenchar
(see all)