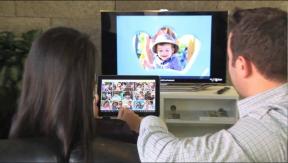 Denver — Artison is unveiling four in-wall active subwoofers here at the CEDIA Expo, all with dual drivers in a reactance-canceling configuration to prevent cabinet and wall vibrations.
Cabinet and wall vibrations reduce audio output and clarity and disturb people in adjoining rooms, the company said. The subs fit flush in standard 2×4 walls.
The four models are the $900 RCC 320 PC and $1,500 RCC 640 PC, both for preconstruction installations, and the $900 RCC 320 R and $1,500 RCC 640 R for retrofit applications. Their companion subwoofer amp is the $800 RCC 620 SA.
The amplifier and the 320 models ship in October, and the 640 models ship in November.
All feature all-aluminum enclosures, IP 65 waterproof rating for high-moisture environments, high-efficiency drivers with extended throw to produce accurate extended bass, low-profile decorator grilles, and small size to increase application options without sacrificing performance, the company said. The amplifier can drive multiple subwoofers at a time.
To reduce size to fit in a standard wall and to provide a reactance-canceling configuration, the RCC 320 PC and RCC 320 R use two pairs of 4×6-inch drivers, while the other two subs use four pairs of 4×6 drivers. Each pair of drivers faces each other inside the cabinet, and sound is vented through a horizontal slot in the baffle.
In the preconstruction models, only a narrow grille that covers the vent is visible to homeowners. The retrofit models use larger grilles.
The paired drivers fire in phase so that cone motion in one driver is a mirror image of the cone motion in the paired driver, thus canceling each driver's reactive forces, the company said. The configuration also allows for the use of smaller, lighter, more accurate drivers that are collectively more efficient and have more power handling capacity than a single larger driver, the company said.
An all-aluminum enclosure was used because of its stiffness and thinness, which maximizes interior volume.
The outboard rack-mount Class D amp delivers 400 watts RMS into one subwoofer and 600 watts RMS into two subwoofers.
It features DSP-based preamp, music and movie modes selectable via amplifier IR codes, 0- to 180-degree digital phase-shift adjustment, signal-sensing on/off, 12-volt triggers, IR jack, balanced XLR input, and adjustable low-pass crossover from 40Hz to 160Hz with 12 and 24dB/octave cutoff slopes.
Separately, Artison is showing a new custom-installed speaker designated for rear- or side-surround applications.
The speaker, designed for in-wall or in-ceiling placement, is the Mezzanine 8. It is shipping at $600 per pair. It joins an in-wall LRSIW in-wall speaker designated for left, right and surround applications.
The Mezzanine's four drivers consist of two mid-woofers and two silk-dome tweeters in a sealed enclosure. The tweeters are mounted at a 60-degree angle to one another and are wired out of phase to create a non-directional acoustic pattern above 3KHz, enveloping listeners "in three-dimensional space," the company said. The dual mid-woofers are wired in-phase to generate a point source to provide precise locations for action and reality scenes, the company said
Dave Donald, Artison's sales and marketing VP, said the speaker delivers "the best of both worlds" because it delivers "a directional and non-directional component in the same enclosure."
The enclosure is molded in ABS plastic with glass fiber for strength and durability. Mounting depth is only 3.5 inches. It ships with a round, paintable grille for in-ceiling use and an optional square grille for wall placement.
Latest posts by Joseph Palenchar
(see all)