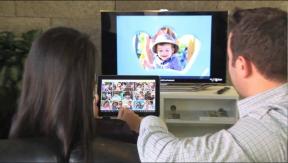 Denver —Archos will go to the IFA convention in Berlin to expand its smartphone and tablet selection with more powerful quad-core tablets, new themed tables for kids and gamers, and Android 4.2 smartphones that will feature a "pure unskinned Android OS," the company said.
The company also said it is developing a smartwatch but didn't think it would be exhibited at the show.
The tablets and some smartphones will arrive in the U.S. later this year, said marketing director Craig Terblanche.
In issuing limited details about the new products, the company said it will show a new Platinum range of tablets with Android 4.2, quad-core processors, aluminum chassis, wireless display technology and IPS screens with up to 2048×1536 resolution.
The Archos 101xs2 tablet, also with quad-core processor, is intended for media playback and productivity applications. It will feature HD IPS screen, front-facing dual stereo speakers, and magnetic keyboard.
Tablets with 3G connectivity in the Xenon series will also be shown but aren't intended for the U.S.
The company will continue to offer themed tablets and will bring to the show the 80 ChildPad, 101 ChildPad and Gamepad 2. The themed tablets will for the first time will offer a home-screen application developed by Archos to curate the more than 1 million apps inside of Google Play. From the home-screen application, "users will be able to discover a selection of apps that best fits the purpose of the tablet, making it easier for the end user to find the right content," said Terblanche.
The new ChildPad tablets will feature a user interface designed for kids, Google Play filtered for kids, full parental controls, and Android 4.2.
For gamers, the new GamePad 2 is positioned as a combination of Android tablet and gaming console with simplified access to thousands of the latest games, the company said. The Gamepad is much improved over last year's initial Gamepad, Terblanche said.
As for smartphones, the company will show new models in the Oxygen, Platinum and Titanium series, all Google-certified and with un-skinned Android OS, the company said.
The flagship Archos 50 Oxygen features a full-HD IPS screen, 1.5GHz quad-core CPU, 16GB storage, Android 4.2, 13-megapixel main camera, and 5-megapixel front camera. The Titanium series will feature 4-inch screen, dual-core CPUs, 5-megapixel main camera, and 0.3-megapixel front camera.
When select models come to the U.S., they will be unlocked, feature dual SIMS that enable international travelers to avoid high roaming fees, and be priced in the same price range as subsidized locked phones, Terblanche said. The U.S. model will feature HSPA+21 and LTE technology.
Latest posts by Joseph Palenchar
(see all)