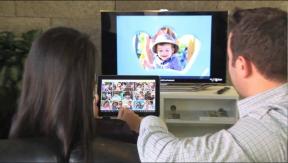 Mahwah, N.J. – Sharp said Thursday that retailers have started selling its Aquos Quattron Plus (Q+) advanced FullHD LED LCD TV line.
Sharp's latest sets, which were first unveiled at the 2014 International CES, feature a complex up-scaling and pixel-mapping technology leveraging the extra yellow sub-pixel of the core Quattron technology. The Q+ technology splits each of the red, green, blue and yellow sub-pixels in half horizontally, creating 2160 vertical resolution, and a total of 16 million sub-pixels, 10 million more sub-pixels than the average 1080p set.
The system produces near 4K Ultra HD looking images on a FullHD 1080p panel, at a significant cost savings from a top-tier Ultra HD displays. The sets will also accept native 4K Ultra HD signals and down-convert them for display on the Q+ screen.
Q+ TVs are the only Full HDTVs to accept a 4K signal and play it back at near-4K resolution, with an effective resolution of up to 3,840 by 2,160, Sharp said.
All Q+ TVs feature Sharp's Revelation Upscaler, which takes HD content and optimizes it for the higher resolution screen, so that it's sharper and more vivid.
Sharp is positioning the Q+ line as a high-resolution option between standard Full HD and 4K. Because the Q+ TVs are built using a 1080p panel, they can be priced at almost half of today's premium 4K sets, Sharp said.
The Q+ series will be available in 60-, 70- and 80-inch screen sizes in the SQ and UQ lines. The SQ line, which available now, comes in two screen sizes: 60 inches ($2,399 suggested retail) and 70 inches ($3,399).
The UQ line, which will arrive in stores in mid-March, will be available in 60 ($2,999), 70 ($3,999) and 80 inches ($5,999).
Those models will include THX certification, AquoMotion 960, Super Bright images and premium design with an aluminum bezel, 3D with two pairs of glasses, and a built-in 35-watt audio system with Bluetooth.
Sharp also includes its SmartCentral 3.0 advanced smart-TV platform with advanced programming menu and browsing, including intuitive recommendations. The platform integrates cable, satellite and streaming channels and allows searches across live content sources by title, genre, time and popularity.
Apps include Netflix, Hulu Plus, Vudu, YouTube, Pandora and Rhapsody, Facebook and gaming.
Specs for the two Q+ Lines follows:
UQ Line:
• FullHD resolution
• able to play 4K content
• built-in Revelation Upscaler for HD Content
• THX Certified
• Super Bright technology
• AquoMotion 960 with 240Hz panel
• active 3D with two Bluetooth 3D glasses supplied
• SmartCentral 3.0
• TV/web split screen
• Wallpaper Mode
• four HDMI inputs (4K Ready) and two USB ports
• 15-watt subwoofer
• Bluetooth
SQ Line:
• FullHD resolution
• built-in Revelation Upscaler for HD content
• Able to play 4K content
• 240Hz panel
• 3D ready
• SmartCentral 3.0
• TV/web split screen
• Wallpaper Mode
• four HDMI inputs (4K ready) and two USB ports
• Bluetooth
Latest posts by Greg Tarr
(see all)