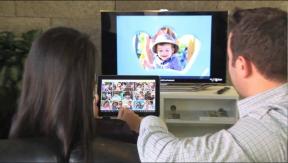 Geneva — Apple is stepping up iPhone integration with OEM infotainment systems with the launch of CarPlay, which is available as an update to iOS 7 and works with iPhones equipped with the all-digital Lightning connector.
CarPlay-enabled OEM infotainment systems will be available in select cars shipping in 2014, the company said here at the International Geneva Motor Show.
Vehicles from Ferrari, Mercedes-Benz and Volvo will unveil CarPlay-enabled infotainment systems at the show this week, Apple said. Other auto manufacturers planning to offer CarPlay-enabled systems include BMW Group, Ford, General Motors, Honda, Hyundai Motor Company, Jaguar Land Rover, Kia Motors, Mitsubishi Motors, Nissan Motor Company, PSA Peugeot Citroën, Subaru, Suzuki and Toyota.
CarPlay is designed to reduce driving distractions by making make it easier to make calls, use the iPhone's Map app, access music, and get messages via spoken commands or via touch. Users control CarPlay from the car's native user interface or just push and hold the voice-control button on the steering wheel to activate Siri.
Once an iPhone is connected to the vehicle, Siri helps users access contacts, make calls, return missed calls or listen to voicemails. When incoming messages or notifications arrive, Siri responds to voice commands to read the driver's messages, let drivers dictate responses, or let drivers place a call.
Also with Siri and CarPlay, users can ask for directions and receive spoken turn-by-turn directions along with maps appearing on the factory display. The combination also enables Maps to anticipate destinations based on recent trips and via contacts, emails or texts. It provides not only routing instructions but also traffic conditions and estimated time of arrival.
CarPlay lets users access iPhone-stored music, podcasts, audio books and iTunes Radio via the car's built-in controls or by asking Siri to pull up what you'd like to hear. CarPlay also supports select third-party audio apps, including Spotify and iHeartRadio.
"CarPlay has been designed from the ground up to provide drivers with an incredible experience using their iPhone in the car," said Greg Joswiak, Apple iPhone and iOS product marketing VP. "iPhone users always want their content at their fingertips, and CarPlay lets drivers use their iPhone in the car with minimized distraction."
Latest posts by Joseph Palenchar
(see all)