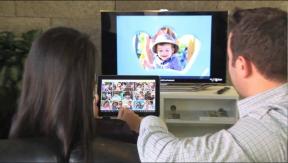 San Francisco — Apple took the wraps of its latest full-size iPad, renaming it the iPad Air, upgrading performance with a 64-bit CPU, and reducing weight, size and thickness while maintaining its predecessor's price points and 10-hour battery life.
The company also unveiled the new iPad Mini, which still sports a 7.9-inch screen, but has been upgraded to include Retina display and 64-bit CPU while maintaining a 10-hour battery life. It will be available for the first time in a 128GB version. Each version of the iPad Mini with Retina display is priced $70 higher than its predecessor, with the opening-price Wi-Fi version with 16GB of memory at $399, up from the previous version's opening price of $329.
The company is keeping its current 16GB iPad Mini and reducing its opening price to $299 from $329. Apple is also keeping its 16GB iPad 2 at $399 for the Wi-Fi version and $429 for the 3G version.
No new iPods were introduced.
All new iPads will come in LTE versions like before, but the new models will support more LTE bands for use with more carriers in more countries, including T-Mobile in the U.S.
Both models also come with the new iOS7 operating system.
Apple hopes the new models will re-ignite its tablet growth and reverse its shrinking share of the global tablet market, though in the first half of this year, IDC statistics show.
The iPad Air will be available Nov. 1 in multiple countries, including the U.S. and China, marking the first time that China is in the first wave of countries getting a new iPad. The new iPad Mini with Retina display will be available later in November.
Both new models are the first iPads with 64-bit desktop-class A7 chip, which delivers twice the CPU speed and twice the GPU speed of the previous full-size iPad. The processor is used in the new iPhone 5s. On the Mini, the processor boosts CPU speed by four times and GPU speed by eight times.
Both iPads are also the first iOS devices with MIMO to deliver twice the 802.11n speeds of their predecessors.
Both models' screens display 2,048 by 1,536 pixels, the same as on the previous iPad and up from the previous Mini's 1,024 by 769 pixels. The new iPad Air is 20 percent thinner at 7.5mm compared with its predecessor's 9.4mm; sports a 43 percent narrower bezel to make holding the device more comfortable; and weighs 1 pounds, down from 1.4 pounds, making it what Apple called the lightest full-size tablet in the world. It also adds dual microphones for the first time.
The main cameras on the new iPad and Mini still offer 5-megapixel, 1080p capture but now have improved back-side illumination.
The fifth-generation full-size iPad with Wi-Fi is priced at $499, $599, $699 and $799 for the 16GB, 32GB, 64GB and 128GB models, respectively. The 4G LTE models are priced at $629, $729, $829 and $929 for the 16GB, 32GB, 64GB and 128GB models, respectively.
The new iPad Mini with Wi-Fi is priced at $399 for the 16GB version, $499 for 32GB, $599 for 64GB and $699 for the new 128GB version. The cellular versions are priced, respectively, at $529, $629, $729 and $829.
Apple has been posting slower iPad growth despite the iPad Mini launch last year and is losing global share, though its U.S. share spiked up in the first half.
In the first half of 2013, Apple's tablet share worldwide fell to 36.9 percent of global unit shipments compared with 45.6 percent in calendar 2012 and 53.2 percent in calendar 2011, IDC statistics show.
In the U.S, however, iPad share grew in the first half to 48.9 percent from calendar 2012's 46.2 percent, thanks in large part to the launch of the lower priced iPad Mini. Apple's share in 2012 was down from 2011's 47.2 percent.
For the first nine months of Apple's fiscal year ending June 29, global iPad unit sales were up 28.6 percent to 57 million compared with the year-ago period, but dollar volume was up only 3.5 percent to $25.8 billion. In contrast, iPad sales for the full 2012 fiscal year (which ended Sept. 30, 2012) grew 80 percent in units to 58.3 million and 37.2 percent in dollars to $32.4 billion.
Global iPod unit volume for the first three quarters of fiscal 2013 fell 23.3 percent in units to 22.9 million and 55.7 percent in dollars to $3.84 billion.
For its part, Ovum has said Apple's global tablet market share peaked at 73 percent of worldwide unit shipments in 2010 when the iPad was launched and fell to 62 percent in 2011. iPad market share in North America slipped in 2011 to 73.5 percent from 2010's 84.5 percent.
Latest posts by Joseph Palenchar
(see all)