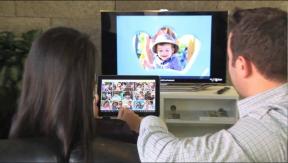 Portland, Ore. – Direct-to-consumer marketer Aperion Audio has begun shipping what it calls the industry's first networked speaker compatible with the "Play To" feature of Windows 8 PCs.
The single-chassis 100-watt $499 Aris is also Windows 7-compatible and DLNA-certified.
From a Windows 7 or 8 PC, consumers use the computers' Play To feature to select networked devices to which they want to stream PC-stored music. PC-stored music can be selected from a smartphone, tablet or any networked source using the Aris Music App for Android and iOS devices or most other Digital Living Network Alliance (DLNA) apps.
Because the speaker is DLNA-certified, users will also be able to stream music from Apple, Android and Windows mobile devices via most DLNA-certified music apps, the company said. The company, however, also plans to offer its own Aris apps for Apple, Android, and Windows 8 mobile devices to stream the devices' stored music.
The speaker, which also features Ethernet port, is currently available with included wireless card for Windows and Windows Media Player compatibility, but the company plans in the first quarter to offer an AirPlay card for native compatibility with iTunes, Mac computers, and Apple mobile devices.
Until the AirPlay card is available, Macs can be loaded with any of several UPnP (Universal Plug and Play) server apps, such as Twonky for Mac, to enable streaming from Macs to the Aris, the company said.
The two-way, biamplified speaker decodes WMA, AAC, FLAC, MP3, and Real music files. It features 24-bit DACS, two 1-inch neodymium-magnet soft-dome silk tweeters, two 4-inch woofers, and two 4-inch passive radiators, and four 25-watt amps delivering a combined maximum SPL of 105 dB.
The speaker's black-anodized extruded- aluminum enclosure measures 6.5-inches high by 14.75-inches wide. It's equipped with adjustable, removable red steel stand to angle the speaker.
The Aris connects to a home network at the push of a button via Wi-Fi Protected Setup (WPS), which is built into most current wireless routers or via an on-board setup process when WPS is not available.
The system is said to be future-proof because if its ability to swap out wireless cards.
The company has also begun selling the speaker online through Amazon and Audioholics.