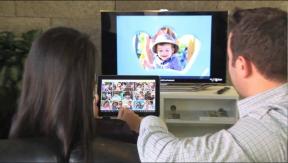 New York — AmTran Video has added four SKUs to its JVC-branded BlackSapphire Razor-Edge E-LED HDTV line for shipment this summer.
Two of the models are in the fully featured SL line: the 42-inch SL42B-C and 47-inch SL47B-C models, which feature a nearly borderless image, the thickness of an iPhone, XinemaSound 3D audio, built-in 802.11n Wi-Fi, ICE smart-TV apps and a QWERTY keypad remote control, as well as passive 3D with four free pairs of XinemaView 3D glasses.
The SL42B-C and SL47B-C will ship this summer for $799 and $899 suggested retails, respectively.
At a media preview here on Thursday, both Drew Pragliola, sales VP, and Allan Hsieh, product manager, emphasized three features: sound quality, the speed of connecting to the web via Wi-Fi and the virtually bezel-free design.
On that last feature, Pragliola said, "Our new Razor-Edge design … removes the bezel from the picture and delivers an image that almost looks like a window into another world."
Both sets feature onboard Dolby Digital decoding and XinemaSound3D, a digital signal processing platform that employs the same sort of crosstalk-elimination technology used in high-end soundbars, Hsieh said. The sound quality "eliminates the need for soundbars that are expensive and bulky," he noted.
The sound quality of both top-of-the-line sets means they have to be sold at "retailers who have dedicated selling floors" and can "demonstrate the features," Pragliola said, and not at retailers "who hang dozens of TVs on the wall."
Top national retailers, chains like Paul's TV, "and NATM Buying Group-type retailers are ideal fits for these products," Pragliola said.
There is enough margin for the JVC-branded sets to make money for retailers even though the price difference between them and market share leaders is around 20 percent less, according to Pragliola.
Both sets also feature fast Internet connection with the Internet Connected Experience (ICE) platform onboard, which offers such preloaded apps as Netflix, Vudu and Pandora. Both units have built-in 802.11n Wi-Fi access and a 10/100 Ethernet connection.
The sets also have a USB media port for access to personal music, as well as three HDMI inputs with CEC (one with Audio Return Channel compatibility), an antenna input, component- and composite-video inputs, and a music port, as well as an Audio Only mode to conserve energy when listening to just music.
Other energy-saving features include Auto Power Off and full Energy Star certification. Both models also feature V-Chip 2.0 parental control and an interactive setup guide deigned to simplify installation.
Both models also feature 120Hz CrystalMotion frame rates, adaptive edge LED backlighting, and 20,000,000: 1 contrast ratio.
In the M series, AmTran has added JVC-branded 50-inch SP50M-C and 55-inch SP55M-C BlackSapphire E-LED HDTVs, with many of the same features of the new SL line TVs, except for the 3D feature.
"The SP50M-C and SP55M-C represent an ideal solution for those customers looking for outstanding 2D FullHD video, as well as Internet capabilities and streaming apps, but who, for whatever reason, don't want or need 3D," Pragliola said.
The SP50M-C and SP55M-C will ship this summer for $899 and $999 suggested retails, respectively.
These two sets, which have just begun to ship, are selling at Costco, BJ's, Sam's Club and "regional retailers," Pragliola said.
About the brand's position in the marketplace, he noted that AmTran's JVC TVs are "either third or fourth in volume."
When asked if distribution of either series may be expanded this year, Pragliola noted, "We work on a 90-day shipment cycle" on orders, and said the soonest the company could add retail distribution might be "in October or November."
He said sell-through via existing retailers has been outstanding and that 50- or 55-inch TVs in the upper-end SL line is possible during 2014.
Latest posts by Steve Smith
(see all)