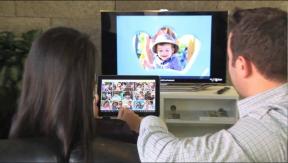 New York — CBS and Amazon.com have expanded a content-licensing agreement to bring classic series and TV shows from CBS Television Distribution and Showtime Networks to Amazon's Prime Instant Video service, the companies said Wednesday.
Amazon Prime members will be able to instantly stream the content at no additional cost to the annual membership fee.
Series coming to Prime Instant Video for the first time through the agreement include "America's Next Top Model," "Everybody Loves Raymond," "Jericho," "The L Word," "Undercover Boss" and "United States of Tara," among others.
CBS/Showtime Series currently on Prime — including "Medium," "The Tudors," the complete "Star Trek" franchise, "I Love Lucy" and others — will continue to be available for Prime members to stream, commercial-free, at no additional cost on the Kindle Fire HD, Kindle Fire, iPad, iPhone, iPod Touch, Roku, Xbox 360, PlayStation3, Wii and Wii U, among other devices, the companies said.
"CBS was one of our earliest content partners for Prime Instant Video, and our Prime customers have consistently told us how much they love having access to great CBS and Showtime shows," said Brad Beale, Amazon digital video content acquisition director. "Adding a wider selection of great TV series, while extending our already popular selection of CBS programming, continues to make Prime an even better deal for customers — and we love that."
"We're very pleased to extend our relationship with Amazon and their Prime Instant Video service," said Scott Koondel, CBS chief corporate licensing officer. "Clearly the appetite for CBS programming continues to be very healthy, and we look forward to continuing to reach and establish new fans through Amazon's terrific platform."
Amazon's Prime Instant Video service recently announced it will be the exclusive online subscription home for the CBS summer series "Under the Dome" — produced by Steven Spielberg and based on Stephen King's best-selling novel of the same name.
Latest posts by Greg Tarr
(see all)