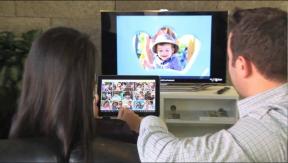 Philadelphia – Almo Professional A/V, in partnership with InfoComm International, is inviting AV resellers, integrators and consultants to "Navigate to New Horizons" at the first E4 AV Tour event of 2014 in Dallas on March 11.
E4 Dallas will include a first-run keynote address focused on pre-engineering AV into smart buildings, and new courses led by some of the biggest names in the industry, including Tom Stimson, past president of InfoComm International. E4 Dallas will also feature a dynamic array of more than 35 manufacturing partners and networking opportunities with business colleagues and other AV professionals, the distributor said.
Now in its fifth year, the E4 tour continues to evolve to meet the changing needs of AV resellers, integrators and consultants. Credited as the industry's most specialized one-day dealer event, E4 has traveled to countless cities to serve the product, technical and business training needs of thousands of resellers and installers while creating the ideal forum for professional networking.
"While we continue to build on each E4, the successful formula for our event remains the same," said Melody Craigmyle, marketing VP for Almo Professional A/V. "We are returning to the Dallas venue we visited in 2012 to spend time with a concentrated group of Almo partners in a city that is home to one of our largest local warehouses and our newest sales VP Sean McNeill."
Like the "Navigate to New Horizons" theme suggests, Craigmyle noted that attendees can expect a lot of firsts at E4 Dallas, including new products from Samsung, Sharp Aquos, Planar, Canon and BrightSign. "Well-known industry veteran Tom Stimson has joined the tour to share his expertise on how to win more business in today's changing reseller world. And we have a new keynote on the emerging importance of integrating AV into the Building Information Management (BIM) layer," Craigmyle explained.
E4 Dallas will include the following courses, worth a total of nine valuable InfoComm Renewal Units: Audio Gain Structure; Demystifying Media Players for Digital Signage; Don't Be a Commodity: Dealing with RFPs (Highlighted E4 AV Tour Addition); Assessing Network Readiness for AV Systems; How to Compete Against Old-School AV Dealers (Highlighted E4 AV Tour Addition); The Ins and Outs of Projector Edge Blending Technology; Five Technologies that Will Impact AV; and Metrics and Analytics for ROI in Digital Signage.
E4 Dallas is on March 11, 2014 at the Hyatt Regency Dallas and runs from 8:30 a.m. to 4:00 p.m. It is an entirely free event, including parking, for Almo Pro A/V's reseller, integrator and consultant partners. To register, go to www.e4avtour.com. The E4 AV program can be accessed on demand during and after each event for instructor videos, copies of the course presentations and live Twitter updates. More information about E4 Dallas will be available prior to the event.