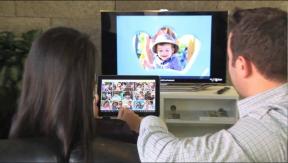 Boston – The Association of Loudspeaker Manufacturing & Acoustics (ALMA) will feature the world-premier screening of "The Life & Times of Paul Klipsch" during its Winter Symposium in Las Vegas just before International CES.
The screening will be held Sunday, January 6, at 6 p.m. at the Tuscany Suites & Casino.
The documentary, presented by Klipsch's Jim Hunter, illustrates the career of the founder of the Klipsch speaker brand and highlights events that helped shaped the audio industry, ALMA said. Hunter, Klipsch's historian and a 34-year Klipsch employee, will also present a slide show that includes archival documents and photos going back to 1798. It will include technical papers at GE in 1927.
"It is difficult to separate the man from the company," Hunter said. "However, we can trace the development of the industry from Edwin Armstrong demoing FM with Klipschorns to the Audio Fair in New York, to correspondence and visits with Dick Heyser, Arthur Fiedler, Saul Marantz, Avery Fisher, Sherman Fairchild, John Eargle, and more."
The Winter Symposium's program will cover technologies such as micro-drivers, microphones, hearing aids, and other transducer-related technology. The Winter Symposium will feature training seminars covering various aspects of modeling, measurement, design and manufacturing. The event will also host technical paper presentations, tutorial sessions, roundtable and panel discussions, an exhibit hall showcasing suppliers to the industry, and the event's annual banquet.
The event is the largest event in the world dedicated entirely to the loudspeaker industry, ALMA said.