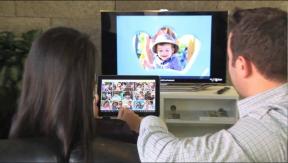 Las Vegas — A finding released Wednesday of a new study of Adobe product users identified a 12-fold increase in the use of encrypted video (or TV Everywhere) consumption in 2012.
The findings were released during the NAB Show, here, and reflected aggregated data from Adobe's Digital Index.
The study looked at video in a number of different ways including social media, mobile use, advertising and general video-consumption patterns.
The digital index is a program inside Adobe software that can go inside the entire data set of Adobe products to anonymously aggregate information. This is used to look for interesting trends and insights, which are made available to the customers so they can understand what is going on and react to it.
"If content is king, then video is heir to the throne because it is the fastest growing category of new content consumption," said Tamara Gaffney, Adobe Digital Index senior manager.
The study also found that video game console users, while not the largest group of TV Everywhere consumers, were the most engaged — meaning they use TV Everywhere to play more unique video plays per month, at an average of 14.
Some 70 percent of TV Everywhere consumption came from users of mobile devices (most of that being tablets), Gaffney said.
The rising proliferation of tablets in the market is fueling access to TV Everywhere content.
"This is really profound in the way Americans are now viewing television," Gaffney said.
The impact of online video has led to a 3.6 times growth rate year over year in tablet consumption in 2012 and a tripling growth rate in mobile phones, she said.
"So while tablets are king here, mobile phones are also coming along very well in the growth of this kind of video consumption," Gaffney said.
At the same time, the index also found 30 percent growth in the use of so-called "regular" video consumption — video that does not require a subscription or authentication.
"Although 30 percent may not sound like a lot compared to the 12-time growth of TV Everywhere consumption, the fact that it has been around for quite a while, to see a year-over-year growth of that magnitude seemed like another pattern that was interesting," Gaffney said.
Regarding social media and the use of digital video, she said the two "are like a peanut butter and jelly sandwich, because they are very sticky together."
She said that means that when marketers use video in their social reach, they get higher social reach and greater social engagement.
"It really works better for them to use postings that have more video in them than photos or text," Gaffney offered.
"For video companies, if they get a referral from a social network — meaning someone clicks on a link — they get a higher completion rate on the videos," she continued. "That's good for them for a couple of reasons. First, the more people who watch a video all the way to the end, the more different ad pods they can consume. So they have greater opportunity to sell advertising over the course of that video.
"The other thing is that post-roll advertising — the thing that happens at the end of video — is the area that highest click-through rate. Because this area has the greatest inventory, the ability to create great inventory in post-roll has a lot of extra value for the type of advertisers that are looking at click-through as one of their main goals."
She said most video is not based on click-through, but that may possibly be because there is not enough post-roll advertising availability.
Despite the indications that social media and video go well together, less than a quarter of many media companies posts contain a video link, Gaffney said. Adobe's report points out that video companies and marketers need to create or use more video content in their social media.
Gaffney said that while consumers are using new ways of accessing video content, that doesn't mean they are giving up more traditional methods.
"They are adding more ways of accessing video made available to them, and they are going to be demanding more and more," she said.
For consumer electronics retailers, Gaffney said the data suggests that "consumers might want to start thinking differently about how they are merchandising some of these devices, knowing that people are using them for video access for television."
She added, "Retailers might also want to think about how they can take these new use cases to provide consumers with even greater reason to make that purchase for something like a tablet."