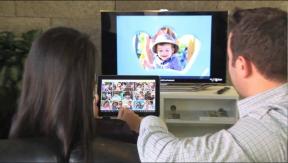 New York – Acer has introduced a mobile computer that neatly bisects the ground between tablet PC and Ultrabook.
The Iconia W700 is a Windows 8 tablet that runs on a variety of Intel Core i3 and i5 processors. It comes with a docking station that allows it to be used as a traditional computer, but once slid out of the cradle, the W700 works as a tablet.
Eric Ackerson, Acer's product marketing and brand manager, said this format will allow the W700 to be used equally for content creation and consumption. It will sell into retail and the VAR channels.
Ackerson said the Windows 8 operating system will be a plus for the W700 as it is more intuitive and familiar to the average consumer. He expects the number of apps for Windows 8 to eventually reach a healthy number.
Three versions of the W700 will start shipping on Oct. 26. The W700-6607, the W700-6691 and the W700-6465 all feature 11.6-inch FullHD displays, 4GB of DDR3 memory, a front 1-megapixel camera, 5-megapixel rear camera, MicroHDMI, USB 3.0 ports on the tablet and three USB 3.0 ports on the dock. Battery life is rated at seven hours when web browsing.
The top end W700-6465, $999, has a 128GB solid-state drive (SSD) and runs on an Intel Core i3-3317u processor.
The W700-6691, $899, has a more powerful Core i5-3317u, but drops the storage down to a 64GB SSD.
The entry-level W700-6607, $799, uses a Core i3-3217u processor and has a 64GB SSD.