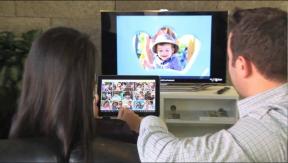 Tokyo — Sony recorded a net profit, based on reduced TV losses and sales of facilities, and higher sales for its fiscal year, ended March 31.
Net income was $458 million, or 43 billion yen, compared with a net loss the prior year of 456.7 billion yen. Operating income for the year was 230.1 billion yen, or $2.5 billion, compared with an operating loss of 67.3 billion yen in the prior year.
Sales and operating revenue were up 4.7 percent in yen, or $72.3 billion. This increase was primarily due to the impact of consolidating Sony Mobile Communications AB as a wholly owned subsidiary, among other factors.
Sony benefitted from a decrease in losses in the TV business, an improvement in its devices business and games, among others, and the sale of its U.S. headquarters in New York and offices in Tokyo, and better exchange rates with the yen.
In Sony's home entertainment and sound segment, which includes TVs, home and portable audio and video categories, sales decreased 22.5 percent year on year to 994.8 billion yen, or $10.6 billion, primarily due to a significant decrease in LCD television unit sales, Sony reported.
The segment's operating loss decreased 118.9 billion yen year on year to 84.3 billion yen, or $897 million. This "significant improvement in operating results" was primarily due to the absence of 64.1 billion yen of equity in net loss for S-LCD recorded in the previous fiscal year and reductions in LCD panel related expenses and operating expenses.
In televisions, sales decreased 30.8 percent year on year to 581.5 billion yen, or $6.2 billion, and operating loss decreased 137.9 billion yen year on year to 69.6 billion yen, or $740 million.
The mobile products and communications segment's sales were up 102 percent in yen to $13.4 billion due to the consolidation of Sony Mobile. But the unit recorded an operating loss of 97.2 billion yen, or $1.03 billion, compared with 7.2 billion in operating profit last year, attributed to reorganization costs and exchange rates.
The imaging products and solutions segment had 4.1 percent lower sales in yen to $7.77 billion and a 92.3 percent drop in operating income in yen to $15 million, due to lower sales of compact digital still and video cameras, Sony said.
In the game segment, sales were off 12.2 percent in yen to $7.5 billion with operating income down 94.1 percent in yen to $18 million.
Latest posts by Steve Smith
(see all)