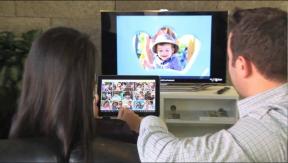 Seoul, South Korea — Spurred mostly by rising mobile handset sales, Samsung posted a record quarter Friday showing third-quarter net profits climbed 26 percent.
Net profits reached to $7.76 billion (10.16 trillion won), and revenue climbed 13.2 percent for the year to 59.08 trillion won in the period.
Samsung posted total sales of $55.5 billion, up 3 percent for the quarter, with the mobile devices division accounting for $34.4 billion in revenue.
Growth in profit from the mobile unit slowed in the period but still represented the bulk of the company's overall operating profit.
Cellphones and telecom equipment accounted for 66 percent of Samsung's operating profit, as the operating profit margin from the mobile communications business dipped to 18.3 percent from 18.8 percent, due to declining prices of high-end smartphones and increased demand for lower-priced phones.
Integrated circuit chip sales also showed growth, rising 12 percent from the previous quarter, to $9.1 billion in revenue.
The semiconductor division's operating profit rose 17 percent for the quarter to $1.9 billion.
The consumer electronics unit, which is Samsung's second-leading business unit for sales, continued to show profit strain with margins of 2.9 percent, with still-weak demand for TVs.
The flat-panel TV market grew for the quarter driven by North America and emerging markets, despite demand decreases in Europe and China.
Average selling prices declined in large-size TVs in the period, due to intensified competition in developed markets, the company said. The company reinforced 60-inch-plus large-size TV lineups in North America with larger shipments.
For the fourth quarter, the company said it expects LCD panel demand to be weaker due to lower TV demand, despite entering the peak season.
Samsung expects TV-panel market inventory issues to continue while 60-inch-plus large-size/Ultra High-Definition demand grows.
Latest posts by Greg Tarr
(see all)