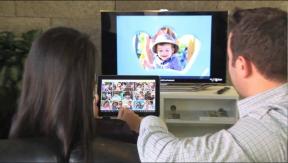 Indianapolis — hhgregg said extreme winter weather contributed to a projected net loss for its fiscal fourth quarter and a 9.9 percent decline in net and comp-store sales.
The retailer did not give an actual number of its net loss except to say that the loss per diluted share is expected to be $0.25 for the three months, ended March 31, while net sales dipped to an estimated $538.3 million.
Contributing to the loss is about $4 million in pretax expenses related to the chain's planned exit from the postpaid mobile phone business as an authorized Verizon retailer. Comp sales for the combined wireless and computing categories are expected to fall 22.6 percent for the quarter, the largest segment drop. hhgregg said its postpaid business has historically impacted its overall operating profitability, but the chain will continue to offer prepaid phones and plans.
The $4 million charge will include the expected write-down of mobile inventory and the write-off of store fixtures as the chain adjusts its product mix.
In a statement, president/CEO Dennis May said, "We faced a number of headwinds during the quarter, which led to disappointing financial results. Extreme weather in January, February and the beginning of March negatively impacted traffic and operating performance in the majority of our stores, particularly those located in the Midwest and Mid-Atlantic regions, where the weather was the most severe."
He added, "While we are disappointed in our preliminary results, we remain focused on executing our strategic initiatives to transform the business by refining our merchandise assortment, improving our customer shopping experience, expanding our credit offerings and enhancing our service capabilities."
May described major appliances as the bright spot of the quarter, with projected comps up 0.5 percent, representing the 11th consecutive quarter of comp gains for the category. He also projected higher average selling prices in video as consumers gravitate to the new generation of Ultra HD TVs and larger screen sizes, and said a wider assortment of furniture will begin hitting stores by early summer as the company expands that business from one brand (Ashley) to five.
The home category, which includes furniture and mattresses, was essentially flat during the quarter, with comps edging down a projected 0.4 percent, while CE comps are expected to fall about 18.9 percent.
In a research note, Janney Montgomery Scott retail analyst David Strasser said the impact of bad weather is understandable, although "once the weather improved, they still did not see much improvement to the overall business." He added that exiting wireless "is a long-term warning sign for the company [as] it is hard to have a strong presence in CE with only a modest mobile offering."
Strasser added that the move out of mobile may also underscore a broader merchandising shift to furniture over time.
The company will formally post its full results on May 20.
Latest posts by Alan Wolf
(see all)